Shipping
(Posted on 02/01/20)
ClassNK has released the first issue of its new publication "ClassNK Technical Journal", focusing on digitalization in this edition.ClassNK Technical Journal is a comprehensive technical publication that supersedes "ClassNK Technical Bulletin", a publication that was formerly being published by the Society...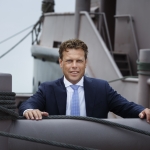 (Posted on 23/12/19)
As of January 1, Arnout Damen will become the new CEO of Damen Shipyards Group. At the same time, the shipbuilding company is switching to a divisional structure to serve the market more effectively and efficiently.Damen Shipyards Group operates 36 shipbuilding and repair yards, employing 12,000 people worldwide. Damen has delivered...
(Posted on 23/12/19)
BIMCO's Documentary Committee has approved two charter party sanctions clauses to help owners and charterers manage due diligence policies and navigate an increasingly complex environment of economic and trade sanctions imposed by governments.Sanctions have become a widely used geopolitical tool by governments. The rules are...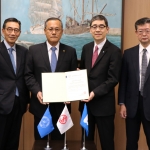 (Posted on 20/12/19)
Leading Classification Society ClassNK granted an Approval in Principle (AiP) based on its Rule Part GF which adopts IGF Code (regulation for ships using low-flashpoint fuels) to NS United Kaiun Kaisha, Ltd. and Imabari Shipbuilding Co., Ltd. for their joint project on the concept design of an LNG-fuelled capesize bulker.The main...
(Posted on 20/12/19)
Members of the Clean Shipping Alliance (CSA) 2020 are advising those shipowners looking to install marine exhaust gas cleaning systems as way of meeting global sulphur cap requirements to ensure that manufacturers, shipyards and installers are using quality, high-end materials.Based on the collective experience gained from more...
(Posted on 20/12/19)
On 1st January 2020, Britannia P&I's Exclusive Correspondent in Denmark (B Denmark P&I), will become a full branch office and be renamed TR(B) Denmark.The new branch office will continue to be headed by Mr. Michael Boje-Larsen, a lawyer with considerable experience in maritime law, including P&I and FD&D cover...