Shipping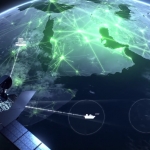 (Posted on 03/09/18)
The digital transformation of the commercial shipping industry will pass a major milestone this September. Inmarsat has today confirmed that the 5,000th ship installation of Fleet Xpress, the world's only high-speed, globally-available Ka-band VSAT service designed for mobility and available from a single operator, will be...
(Posted on 03/09/18)
Well-known maritime lawyer Gareth Williams has joined Campbell Johnston Clark (CJC) as a director of its Singapore office, sustaining the international shipping law firm's drive to grow by attracting acknowledged experts. Williams, who is a specialist in dry work, joins CJC from HFW Singapore. The new appointment reflects...
(Posted on 03/09/18)
Singtel and KVH Industries, Inc, a global satellite and maritime communications provider, has announced a partnership to provide shipping companies a seamless broadband satellite service with KVH's mini-VSAT BroadbandSM satellite connectivity to help accelerate the digital transformation of the maritime industry across the...
(Posted on 03/09/18)
On August 25, 2018, the crew of CSL Welland was involved in a rescue operation that saved a man's life."We commend Captain Wilson Walters and his crew for this act of heroism that is a true testament to the professionalism, teamwork and courage of the crew," said Louis Martel, CSL President and CEO. &...
(Posted on 03/09/18)
Navios Maritime Holdings Inc. has announced the appointment of Jeremy J. Bryan as Chief Operating Officer of Navios Corporationeffective as of 1 February, 2019.Angeliki Frangou stated, "We welcome Jeremy to the Navios Group. Jeremy is a trusted leader whose unique background adds significant...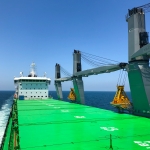 (Posted on 28/08/18)
The next-generation bulk carrier Haaga has been delivered to ESL Shipping from Jinling Shipyard in Nanjing, China. ESL Shipping is part of the Aspo Group. The 160-meter, 25,600 dwt, LNG-fueled vessel generates less than 50% of the carbon dioxide emissions of the previous generation of vessels. The vessel can also be fuelled...