Shipping
(Posted on 24/04/18)
Thordon Bearings has joined a growing number of organisations to have signed up as a full associate member of the International Windship Association (IWSA), the organisation established to facilitate and promote the economic and environmental advantages of wind propulsion across the shipping industry.IWSA now has a membership base...
(Posted on 24/04/18)
Newly formed joint venture company Massterly is now taking shape, announcing its managing director and its chair of the board. With Kongsberg and Wilhelmsen putting their most valuable assets on the front lines, Massterly have all the benefits available to become the leading autonomy company in the maritime industry.Wilhelmsen and...
(Posted on 24/04/18)
The date and location of the fourth annual The Maritime Standard Ship Finance and Trade Conference have been confirmed. The event, which has increased tremendously in terms of profile and popularity since its launch in 2015, will be held on 6th November at the Sheraton Hotel and Resort in Abu Dhabi. This follows the successful staging...
(Posted on 24/04/18)
Delivering quality internet connectivity to the world's vessels is a 'must have' in our fast-changing shipping industry,y but helping today's seafarer manage the way he or she accesses this internet capacity is essential if this valuable resource is to be used effectively and efficiently. Dualog is...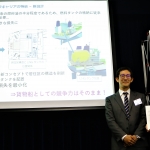 (Posted on 16/04/18)
An R&D plan jointly presented by NYK and Oshima Shipbuilding Co. Ltd. has been approved by Japan's Ministry of Land, Infrastructure, Transport and Tourism (MLIT) in its effort to support the introduction of cutting-edge vessels. The selected plan concerns R&D to fuel a post-panamax bulk carrier with liquefied natural...
(Posted on 16/04/18)
A range of hull repairs on a variety of ship types have illustrated the diversity of shell plating operations Hydrex diver/technicians are capable of undertaking at a moment's notice.In Amsterdam, recently, Hydrex responded to an emergency call from a ship's crew, requesting a permanent repair to a crack in the port...