Shipping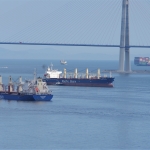 (Posted on 27/06/18)
Hong Kong based Pacific Basin Shipping, one of the world's leading owners and operators of modern Handysize and Supramax dry bulk vessels, has this week closed a US$325 million 7-year reducing revolving credit facility secured over 50 of the Company's owned ships. The move follows improvements in the market for...
(Posted on 27/06/18)
The physical and mental wellbeing of seafarers must be given priority by ship managers – InterManager Secretary-General Capt Kuba Szymanski said to mark Day of the Seafarer on Monday. As June 25th June marked the IMO's annual celebration of seafarers, InterManager, the international trade association for third...
(Posted on 27/06/18)
Leading classification society ClassNK has released its annual report on Port State Control. The report aims to assist ship operators and management companies in maintaining compliant operations by providing information about ships detained by PSC as well as deficiencies that were found on board from many port states in 2017.In...
(Posted on 27/06/18)
Most ship cyber security breaches are consequent of human error but can easily be avoided by implementing cutting edge technology and policies to prevent crews from inadvertently infecting shipboard systems.That was one of the key take-aways from a major maritime cyber conference held in London recently and at which delegates were...
(Posted on 27/06/18)
The global trade association for ship operators, the International Chamber of Shipping (ICS), is increasingly concerned about the new policy of the Italian Government to close its ports to migrants rescued by ships at sea.In the interest of protecting safety of life at sea, ICS is calling on all EU heads of government, at their...
(Posted on 27/06/18)
A new report looking at crew connectivity on ships has revealed the emotional and operational impact on professional seafarers who are often away for up to six months at a time with limited opportunities to interact digitally with friends and family.International maritime charity Sailors' Society, which helps seafarers and...