Shipping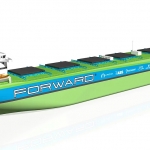 (Posted on 24/05/18)
Eniram, a Wärtsilä company, has signed a Memorandum of Understanding with Athens-based Arista Shipping to participate in the Project Forward initiative, which is led by Arista. The project has developed a dry bulk carrier vessel that features an unprecedented high level of energy efficiency. The carrier's design...
(Posted on 24/05/18)
The International Maritime Organization's (IMO) Maritime Safety Committee (MSC) has formally approved Inmarsat's 'Fleet Safety' solution as a new service to support the Global Maritime Distress & Safety System (GMDSS).Ship owners and operators will now be able to combine maritime safety and broadband...
(Posted on 24/05/18)
The International Chamber of Shipping (ICS) fears 'chaos and confusion' unless the UN International Maritime Organization (IMO) urgently resolves some serious issues concerning the successful implementation of the 0.5 percent sulphur in marine fuel cap, which is scheduled to come into effect globally overnight on 1 January...
(Posted on 24/05/18)
Leading maritime training provider, Seagull AS, have collaborated with IT specialists, SOFTimpact, to develop a web interface between their software systems. The technical collaboration of 'CREWimpact' crewing solution is now integrated with Seagull Training Administrator (STA) and enables the automatic exchange of information...
(Posted on 24/05/18)
Prevention at Sea (PaSea) has announced that two more maritime registries, Malta and Hong Kong, have recognised the merits of its oil record book software and approved its use throughout their fleets to help with the manual recording of Oil Record Book (ORB) entries. Called the ε-ORB, this software has been designed...
(Posted on 24/05/18)
Damage to rudders, running gear and the stern areas of ships due to cavitation is a perennial problem for shipowners, operators and managers, resulting in damaged protective coatings, erosion of surfaces, and ultimately, corrosion.Belgian company Subsea Industries, however, claims it has the answer with its Ecoshield coating.Following...