Shipping
(Posted on 31/01/19)
On 28th January 2019, Cora van Nieuwenhuizen, Minister of Infrastructure and Water Management, visited Rotterdam to meet Damen Shipyards Group and other Dutch maritime industry leaders.Minister Van Nieuwenhuizen heard presentations from Damen, Van Oord and other key representatives of the country's thriving maritime industry...
(Posted on 31/01/19)
The Swedish Club is pleased to report that S&P Global Ratings has raised its insurer financial strength and issuer credit ratings on The Swedish Club to A- with stable outlook. S&P reported that through disciplined underwriting and strong risk controls The Swedish Club has continued to record combined ratios close to 100...
(Posted on 31/01/19)
Hong Kong's insurance regulator, the Insurance Authority (IA), has granted Britannia a licence to underwrite business from its Hong Kong office. This positive news is in line with Britannia's strategy of 'think global, act local'. This has seen new Exclusive Correspondents for the Association opening...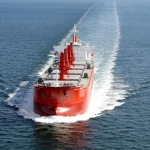 (Posted on 22/01/19)
Hamburg Süd and The China Navigation Company (CNCo), a subsidiary of the Swire Group, have announced an agreement for CNCo to acquire the bulk shipping business in Hamburg Süd which includes Rudolf A. Oetker (RAO), Furness Withy Chartering and the bulk activities in Alianca Navegacão (Aliabulk). The bulk shipping...
(Posted on 22/01/19)
Algoma Central Corporation, a leading provider of marine transportation services, has announced that it has received full refund of all instalment payments made in connection with the now-cancelled shipbuilding contracts with Uljanik d.d. and 3Maj Shipyard of Croatia.Algoma entered into five shipbuilding contracts with 3Maj Shipyard...
(Posted on 22/01/19)
The Swedish Club has launched its new edition of Claims at a Glance, a whistle-stop tour of cases and statistics taken from its experiences in Loss Prevention over the last three years. Claims at a Glance offers the Club's own perspective on some of the real-life cases it has recently dealt with and provides updates on some...