Shipping
(Posted on 22/05/20)
BIMCO, Institute of Chartered Shipbrokers and Ocean Technologies Group subsidiary Videotel have partnered to create a high-quality, accessible educational resource to help maritime students across the globe to continue their studies remotely during the coronavirus pandemicBIMCO, the Institute of Chartered Shipbrokers and Ocean Technologies...
(Posted on 22/05/20)
Seven companies - Asahi Tanker Co., Ltd., Idemitsu Kosan Co., Ltd., Exeno Yamamizu Corporation, Mitsui O.S.K. Lines, Ltd., Tokio Marine & Nichido Fire Insurance Co., Ltd., Tokyo Electric Power Company, and Mitsubishi Corporation - have announced establishment of the "e5 Consortium," with the goal of establishing...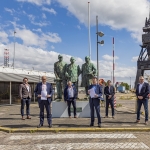 (Posted on 18/05/20)
Damen Shiprepair Harbour & Voyage (DSHV) has signed a joint partnership cooperation with Verolme Special Equipment for the provision of services to exhaust gas cleaning systems (EGCS), widely known as Marine Scrubbers. The agreement arose from a mutual understanding that both parties' clients were seeking wider availability...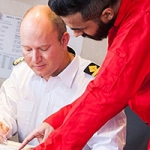 (Posted on 18/05/20)
Maritime Payment Solutions, LLC, a global, industry-leading provider of payment solutions for maritime companies, has announced the introduction of ShipMoney Virtual Cards and the Transfer Marketplace, two new services designed to expedite payments to crew members and their families while providing a broad range of remittance options...
(Posted on 18/05/20)
Leading Classification Society ClassNK granted an Approval in Principle (AiP) to Nippon Yusen Kabushiki Kaisha (NYK Line) and MTI Co., Ltd. MTI) for their joint project on the concept design of an autonomous ship framework (development code "APExS").ClassNK is involved in various demonstration projects and continuously...
(Posted on 18/05/20)
After a third consecutive renewal with a zero general increase, Britannia's total calls and premiums for 2019/20 were down marginally on the prior year. However, lower claims incurred in the financial year resulted in a satisfactory underwriting surplus of USD29.3m and a net loss ratio of 79.9% (2018/19 – 83.8%). The...