Shipping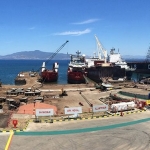 (Posted on 19/12/18)
The European Commission published the fourth version of the 'European List of ship recycling facilities' last week, adding six new yards, taking the total up to 26. It includes 23 facilities located in European Union (EU) member states, and for the first time ever, three located in non-EU member states – LEYAL...
(Posted on 19/12/18)
Columbia Shipmanagement formally opened its high-tech Performance Optimisation Control Room in Cyprus. The opening ceremony was attended by Ms Natasa Pilides, Deputy Minister of Shipping, Republic of Cyprus. The focus of the Control Room is on Performance Optimisation. When full functionality roll-out is complete...
(Posted on 19/12/18)
Qatar based Milaha, has selected Royal HaskoningDHV, a leading independent, international project management and engineering consultancy firm based in the UK and the Netherlands, to develop plans to upgrade its Shipyard facilities in preparation for further growth in current markets and expansion into new areas of operations.Since...
(Posted on 19/12/18)
Diana Shipping Inc., a global shipping company specializing in the ownership of dry bulk vessels, has announced that, through a separate wholly-owned subsidiary, it has entered into a time charter contract with Koch Shipping Pte. Ltd., Singapore, for one of its Panamax dry bulk vessels, the m/v Ismene. The gross charter rate is...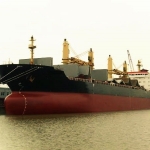 (Posted on 11/12/18)
The Carbon Trust and ClassNK Consulting Service Co., Ltd. have signed an agreement to work together to develop a commercial partnership for offering climate change and sustainability services. The partnership will initially involve the two organisations exploring collaborative opportunities to deliver advice and consulting projects...
(Posted on 11/12/18)
Ballast water treatment manufacturer BIO-UV Group has noted the U.S. Administration's approval of the Vessel Incidental Discharge Act (VIDA) and the possible acceptance of the Most Probable Number (MPN) methodology, the method currently used by the International Maritime Organisation (IMO) to test BWMS treatment efficiency...