Shipping
(Posted on 04/07/18)
The Swedish Club has warned that vessel operators should always look to the long term, when specifying the type of engines to be installed across the fleet. Latest statistics from the Club show that vessels propelled by medium/high speed engines have a claims frequency 2.5 times higher than slow speed engines, with an average claims...
(Posted on 04/07/18)
International shipping industry organisations, with military support, have launched a new website dedicated to providing comprehensive maritime security guidance to companies and mariners. Launched today, the new website www.maritimeglobalsecurity.org provides security-related guidance produced by the industry as well as links to...
(Posted on 04/07/18)
Palau International Ship Registry (PISR) has signed an agreement with VERIFAVIA (UK) LTD and VERIFAVIA SARL to act as independent verifiers and to conduct IMO DCS verification services for the registry's worldwide fleet.Verifavia is a worldwide environmental verification, certification and auditing body for aviation and maritime...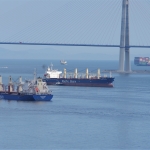 (Posted on 27/06/18)
Hong Kong based Pacific Basin Shipping, one of the world's leading owners and operators of modern Handysize and Supramax dry bulk vessels, has this week closed a US$325 million 7-year reducing revolving credit facility secured over 50 of the Company's owned ships. The move follows improvements in the market for...
(Posted on 27/06/18)
The physical and mental wellbeing of seafarers must be given priority by ship managers – InterManager Secretary-General Capt Kuba Szymanski said to mark Day of the Seafarer on Monday. As June 25th June marked the IMO's annual celebration of seafarers, InterManager, the international trade association for third...
(Posted on 27/06/18)
Leading classification society ClassNK has released its annual report on Port State Control. The report aims to assist ship operators and management companies in maintaining compliant operations by providing information about ships detained by PSC as well as deficiencies that were found on board from many port states in 2017.In...