ClassNK grants AiP for LNG-fuelled bulker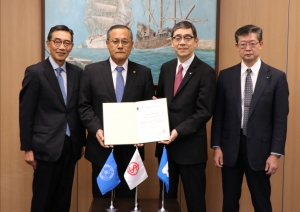 (Posted on 20/12/19)
Leading Classification Society ClassNK granted an Approval in Principle (AiP) based on its Rule Part GF which adopts IGF Code (regulation for ships using low-flashpoint fuels) to NS United Kaiun Kaisha, Ltd. and Imabari Shipbuilding Co., Ltd. for their joint project on the concept design of an LNG-fuelled capesize bulker.
The main features of the design announced by Imabari Shipbuilding are as follows.
"By installing two Type C LNG tanks at the stern, which are considered to be cost competitive and are comparatively easily to install, it is possible to build an LNG-fuelled vessel without significant changes to the conventional vessel's basic design. The design adopts a low-pressure dual-fuel engine for the main engine, which enables the use of gas that has naturally vaporized (BOG: boil-off gas) from the LNG tanks in the main engine without any waste, thereby reducing the burden on the environment and lowering running costs.
This basic design can achieve CO2 emission volumes that are 30% less than the reference line as?required under EEDI Phase 3 by the IMO."
The Imabari Shipbuilding Group specializes in constructing and repairing a wide range of ships. More than 90 ships are constructed annually based in 10 shipyards in Japan.
ClassNK is actively engaged in a growing range of ship related activities and services aimed at contributing to promoting the protection of human life and property at sea as well as protection of the marine environment.
Latest News
(Posted on 26/11/23)
Shi.E.L.D. Services has selected Spinergie as its preferred digitized solution provider to monitor and... Read more
(Posted on 26/11/23)
Thousands of cadets and trainees in India will benefit from in-depth wellness training and support thanks... Read more
(Posted on 17/11/23)
As shipping continues its journey to decarbonisation, INTERCARGO will host a special forum in Athens... Read more
(Posted on 13/11/23)
INTERCARGO was deeply saddened and concerned to hear of the reported appalling missile attack on the... Read more
(Posted on 13/11/23)
A new-look Wellness at Sea Awareness Campaign for seafarers, their families and shore staff that &ldquo... Read more
(Posted on 05/11/23)
Classification society DNV has entered into a Joint Development Project (JDP) with AL Group and its... Read more
(Posted on 31/10/23)
Samsung Heavy Industries (SHI) and leading classification society DNV have inked a Memorandum of Understanding... Read more
(Posted on 31/10/23)
WISTA International, during its Annual General Meeting (AGM) held in Montevideo, Uruguay, on 25 October... Read more
(Posted on 31/10/23)
Members of INTERCARGO met in Athens last week for the Association's Annual General Meeting, Executive... Read more
(Posted on 26/10/23)
The Columbia Group (Columbia) has opened a new manning agency, Columbia Shipmanagement Vietnam (CSM... Read more