Equipment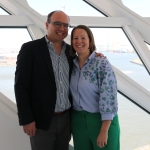 (Posted on 02/06/23)
Belgian logistics and transportation company Zuidnatie NV ordered their first Generation 6 Konecranes Gottwald Mobile Harbour Crane for operations in Antwerp, as they continue to build more capacity while lowering emissions and improving energy efficiency. With delivery in Q3, the crane will be assembled on site for commissioning...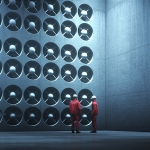 (Posted on 31/05/23)
Norwegian government agency Statsbygg has awarded Framo the development contract to supply pump systems for the Norwegian Ocean Technology Centre, currently under construction in Trondheim. The delivery includes 96 pumps that will pump huge amounts of water to create ocean currents in the research facility's basin.The Centre...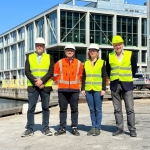 (Posted on 30/05/23)
Technology group Wärtsilä has signed a contract to deliver a Wärtsilä 20 engine to SIMAC, Denmark's leading maritime education centre. The intention is to operate and maintain the engine as part of SIMAC's machinery laboratories, while at the same time deliver power to the local utility...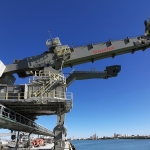 (Posted on 23/05/23)
Bruks Siwertell has secured an order from Senegal Minergy Port SA (SMP) for a high-capacity Siwertell ship unloader for the new port of Bargny-Sendou, which is under construction near Dakar, Senegal, west Africa. Established to undertake the development of this new liquid and dry bulk facility, SMP needed a ship unloading solution...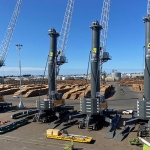 (Posted on 17/05/23)
To support the sizeable lumber industry in New Zealand, Liebherr Maritime Cranes has worked with ISO Limited, a Qube company, and SMAG to develop a state-of-the-art timber handling solution for the ports of Tauranga and Gisborne.This project marks a significant milestone for the forestry industry in New Zealand and demonstrates...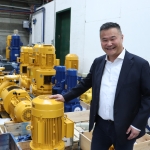 (Posted on 14/05/23)
The Desmi Group's general assembly has approved the year end result for 2022 – record-high net revenue of DKK 1,880 million and a profit before tax of DKK 199.5 million, which is considered very satisfactory under the given preconditions in the market and the political tensions globally.Founded in 1824, DESMI specializes...