Equipment
(Posted on 30/05/19)
The newly inaugurated centre will support ABB's ship power, propulsion and automation technologies and expand service capabilities for ice-going vesselsThe new Marine Service Centre builds on a decade of local ABB services in support of ice-going vessels and relies on a strong core of engineering expertise in Murmansk. In...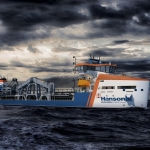 (Posted on 28/05/19)
Damen Shipyards Group and Hanson Aggregates Marine have signed a contract for construction of a Marine Aggregate Dredger (MAD) 3500 vessel. The ship will be used to extract aggregates offshore up to depths of 55 metres, for use in the onshore construction industry.Due for delivery in March 2021, the vessel will be constructed in...
(Posted on 28/05/19)
CM Labs Simulations, developer of Vortex training simulators, has announced the release of the Instructor Operating Station (IOS), CM Labs' dedicated solution for directing, monitoring, and assessing trainees. Designed to complement CM Labs' Vortex Port Equipment Simulators, the IOS provides rich functionality for directing...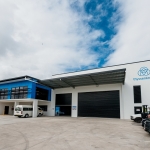 (Posted on 23/05/19)
Oceania thyssenkrupp Industrial Solutions has opened a new service centre in Brisbane, Australia, on 14 May, 2019. The new facility is ideally located to support thyssenkrupp's customer base on the East Coast of Australia as well as clients in Oceania that utilise major logistics channels through Brisbane.&nbsp...
(Posted on 23/05/19)
I-Tech AB, the bio-technology company responsible for the unique marine anti-fouling active agent Selektope, has appointed Dr. Markus Hoffmann to the role of Technical Director. In the newly-created senior position, Dr. Hoffmann will play a pivotal role in I-Tech's commercial and development processes with the aim of...
(Posted on 23/05/19)
ABB will provide a power and propulsion solution for a newbuild vessel operating along the Rhône river in France to run entirely on hydrogen fuel cells ABB strengthens its position as the marine market's frontrunner on hydrogen fuel cell technology through its role in FLAGSHIPS, the EU-funded initiative to deploy commercially...