Equipment
(Posted on 14/01/19)
A new offset carbon neutral ballast water management system called FlowSafe, which can be installed at sea and runs at close to zero costs, has been designed by marine engineering firm Flow Water Technologies Ltd.The modular turnkey system is compact and, with one machine and multiple ballast lines, is ideally designed for tankers...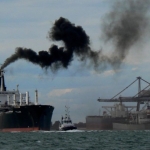 (Posted on 07/01/19)
By utilising waste heat recovery and using modern technology like machine learning to create virtual fuel meters, the shipping sector can reduce both its emissions and its fuel consumption. This is shown in a new dissertation by Fredrik Ahlgren at Kalmar maritime academy at Linnaeus University.The ships of today collect large quantities...
(Posted on 07/01/19)
Ocean Safety has launched its new Ocean Pro 2-Hook Elasticated Safety Line for 2019, with hooks that are the latest development in robust safety for tough ocean-going situations. Choosing the right equipment to keep crew members on board in challenging conditions is vital and Ocean Safety has worked closely with...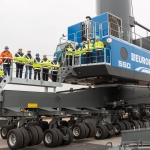 (Posted on 19/12/18)
Liebherr Maritime Cranes has delivered the first of two LHM 550 to its neighbours in the Port of Rostock, Germany. Euroports Germany intends to increase its turnover considerably with the new cranes. Liebherr succeeded in finding a tailor-made solution for Euroports' requirements.Euroports is one of the largest port infrastructure...
(Posted on 19/12/18)
On 10th December, Damen sales manager Sjoerd de Bruin signed a contract with Port Nelson CEO Martin Byrne in New Zealand. Damen will deliver an ASD Tug 2411 to Port Nelson in support of the port's expansion strategy.As part of the expansion, Damen's client will increase its wharf in order to accommodate vessels...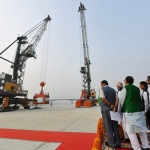 (Posted on 11/12/18)
Liebherr mobile harbour cranes are working on the first Indian inland waterway terminal in Varanasi. India's Prime Minister Narendra Modi officially inaugurated the newly developed port on the river Ganga.Varanasi is located in northern India 780 kilometres east of the Indian capital Delhi, predominantly on the left bank of...