Equipment
(Posted on 19/07/18)
Transas, a Wärtsilä company, has signed a landmark contract to supply a Fleet Operations Solution (FOS) to Wilson ASA, the Norway-based fleet operator. The FOS creates an infrastructure that includes onboard navigational and communication components to provide enhanced connectivity for business communications and crew...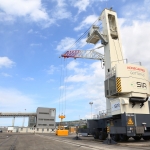 (Posted on 04/07/18)
Konecranes recently commissioned the Model 2 mobile harbour crane in Brindisi, where it will handle coal destined for power generation in continuous-duty operation.SIR srl (SIR), a leading provider of industry-related environmental services, purchased in May 2018 the eco-efficient diesel-electric crane to be the backbone of its...
(Posted on 04/07/18)
Having obtained Japanese government approval to supply liferafts to Japanese-flagged vessels and carry out final assembly in the country, leading maritime safety equipment and servicing provider VIKING Life-Saving Equipment is establishing a local subsidiary and employing staff to bring new value to Japanese shipowners and managers...
(Posted on 04/07/18)
Singular Point has celebrated its second birthday and the company is extremely satisfied with its development during its first two years. Singular Point is a young and innovative company committed to the quality of his products and services, offering the most innovative blockchain enabled maritime shipping and chartering solution...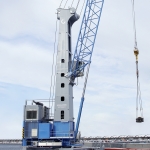 (Posted on 27/06/18)
Warrenpoint Port has ordered a Konecranes Gottwald Model 3 Mobile Harbour Crane. The order is part of the Northern-Irish port's 25-year growth plan.The new crane will from September 2018 on contribute to a significant improvement of efficiency and increase capacity of Warrenpoint's handling activities. It forms part...
(Posted on 27/06/18)
A damaged main engine cylinder casing has now been returned to service in Bulgaria, after a repair operation lasting just seven days, saving almost eight months of off-hire time.The shipowners, faced with an eight-month replacement estimate for the engine, called in local Metalock engineers who worked to perform a full repair. The...