Equipment
(Posted on 24/10/18)
KVH Videotel have introduced a new training package, "Seafarers Mental Health and Wellbeing," during the 5th Annual International Shipowning & Shipmanagement Summit in London, and announced that the package will be available free of charge throughout the industry due to the critical importance of the topic. The programme...
(Posted on 24/10/18)
Thordon Bearings has signed sales and distribution agreements with St. Petersburg-based Industrial & Marine Projects (IMPRO) and Tallinn's Marine Ecology Equipment (MEE), in a development that anticipates the introduction of more stringent pollution rules for European waterways.The appointment of new distributors for Lithuania...
(Posted on 24/10/18)
Producers of water quality monitoring products Rivertrace, have signed an agreement as a preferred supplier of Oil Content Monitors (OCM) for Alfa Laval PureBilge Separator. Alfa Laval's PureBilge is the market leading centrifugal type oily water separator which has high reputation from the market. Rivertrace's Smart Bilge...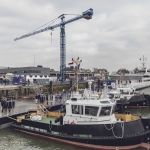 (Posted on 11/10/18)
Damen Shipyards Gorinchem has hosted the Damen group's third annual Workboat Festival. The event brought together over 200 customers, media and industry partners, and 34 workboats, for an afternoon of presentations, demonstrations, product displays and interactive exhibits.The workboats ranged in size from ten-metre Stan Launches...
(Posted on 11/10/18)
A global leader in conveyor belt cleaning technologies has introduced a new design specifically for applications where space for installation is limited. The new SQC2STM RM (Reduced Mini) Cleaner from Martin Engineering is a compact secondary belt cleaner that allows installation in close quarters, built with a narrow profile that...
(Posted on 11/10/18)
The technology group Wärtsilä has been selected to provide a full scope of marine simulators for a new training facility at Solent University's Warsash School of Maritime Science and Engineering, located in Southampton, England.Scheduled to complete in spring 2019, it will be the largest marine simulation training...