Equipment
(Posted on 09/05/18)
RIMS have joined forces with Dutch Drone Company (DDC) to create a new partnership which will allow RIMS to offer the market an enhanced package of drone services for both indoor and outdoor drone flights in the Netherlands.RIMS are a global project and maintenance consultancy to help revolutionise maintenance strategies with smart...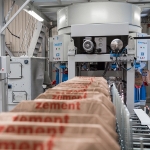 (Posted on 02/05/18)
The Cooperativa La Cruz Azul, the third-largest cement manufacturer in Mexico, required an entire packaging line for the flexible and fully automated filling, palletising and packaging of different types of a new tile mortar.The BEUMER Group solution won out over the competition, providing everything from one single source. This...
(Posted on 02/05/18)
Leading safety equipment supply and service specialist Ocean Safety has been appointed by European SOLAS RIB manufacturer Vanguard Marine to exclusively distribute the Ocean Safety Vanguard SOLAS 420RB Rescue Boat in the UK and Ireland.Acquiring the distribution rights to Vanguard has enabled Ocean Safety to fill a gap in the complete...
(Posted on 26/04/18)
Living up to its reputation as a specialist in demanding material handling applications, SENNEBOGEN will be adding a new variant to its product portfolio in 2018. With its energy recovery system, the new 855 E Hybrid fits seamlessly into place between the existing 850 E and the 860 E. This new, practical addition between the existing...
(Posted on 26/04/18)
In the first quarter of 2018, Konecranes won an order from the Netherlands for a Konecranes Gottwald Model 6 Mobile Harbor Crane, scheduled to be commissioned in the summer.European Bulk Services B.V. (EBS) purchased the four-rope grab crane to support its steadily growing bulk handling business in the long term. In Rotterdam, the...
(Posted on 26/04/18)
The latest four rope grab crane development of Liebherr´s floating crane segment will be installed on a converted handymax bulk carrier (45,000 DWT) with a total length of 185 m and a breadth of 30.5 m. The ship will be retrofitted with the two Liebherr bulk handling cranes at the Turkish shipyard Kuzey Star Shipyard Tuzla...