Equipment
(Posted on 24/05/18)
Commercial shipping is waking up to the growing threat that drones pose to the safety and security of vessels. Terrorist use of drones deploying explosives is already well documented and the potential for a drone to deliver an explosive charge through the deck of an oil/gas tanker or on a passenger ship with potentially catastrophic...
(Posted on 24/05/18)
Rivertrace, a market leading company with over 30 years' experience of water monitoring, has recently signed an agreement with BIO-UV to represent their BIO-SEA Ballast Water Treatment system in Thailand, Philippines, Indonesia and Vietnam which came into force during May 2018. BIO-SEA by BIO-UV, based in Lunel, France...
(Posted on 24/05/18)
A global leader in conveyor technology has helped mitigate dust emissions at the underground limestone mine of a cement production plant by implementing an innovative transfer point solution. Using a specially-designed dust control unit (DCU) to spray a surfactant onto both sides of the cargo stream during transfer onto the main...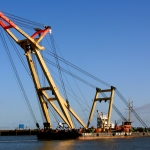 (Posted on 14/05/18)
Since the beginning of the year the Port of Hamburg has offered an optimized service portfolio for handling ultra-heavy loads. With an unit load capacity of 600 tons, 'Enak' is the most powerful salvage/floating crane in Germany. This heavyweight was formerly stationed in Bremerhaven. The new owner Lührs Schifffahrt...
(Posted on 14/05/18)
Ocean Safety has been appointed by Ocean Signal to become their exclusive UK servicing agent for the Ocean Signal M100. This professional Man Overboard device incorporates both AIS and 121.5MHz homing beacon.The M100 is a key item of personal safety equipment for commercial mariners and is already being exclusively distributed by...
(Posted on 14/05/18)
The world's first satellite device that combines the Inmarsat Fleet Xpress Network Service Device (NSD) with the RedPort Optimizer Enterprise satellite router and VoIP gateway has been launched by RedPort Global. The single rackmount appliance will manage ship networks with satellite broadband routing, VoIP connectivity...