Equipment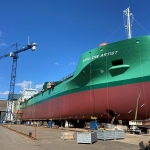 (Posted on 24/06/21)
Damen Marine Components has made a significant contribution to ten ships for the Irish shipping company Arklow Shipping, the latest of which, the Arklow Artist, will be put into service in the foreseeable future. To be able to generate high lifting forces, the ships are equipped with Van der Velden MASTER rudders and BARKE high-...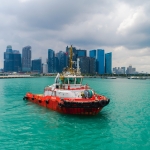 (Posted on 22/06/21)
ABB, together with Singaporean shipyard Keppel Offshore & Marine (Keppel O&M), has successfully carried out South Asia's first remote joystick control of a tugboat in the busy Port of Singapore.The Port of Singapore, with more than 130,000 vessels calling annually, presents one of the most complex settings for autonomous...
(Posted on 18/06/21)
Liebherr has delivered the largest crane from its portfolio of mobile harbour cranes to Veemnatie's new terminal. Founded in 2018, the Veemnatie company merger comprises 5de Havendok NV and Steinweg Belgium. The new machine will be used at a recently developed dry bulk terminal in the Port of Antwerp.Veemnatie NV is launching...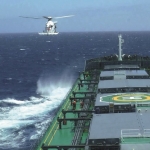 (Posted on 18/06/21)
Imagine the scenario; adverse weather conditions, a seriously injured crew member. There is no option but to arrange for an emergency medivac from the deck of the ship. This is, thankfully, not a situation crews will encounter every day, yet they must be able to deal with helicopter operations safely when they do occur. A newly...
(Posted on 18/06/21)
HEMEXPO President, Helen Polychronpoulou has vowed to redouble efforts for the voice of Europe's shipbuilding and marine equipment to be heard, following her election as a Vice-Chair of SEA Europe at an Annual General Meeting held on 10 June.SEA Europe represents European shipbuilding and marine equipment associations across...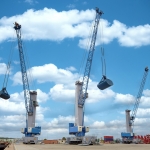 (Posted on 16/06/21)
Konecranes is instilling new Generation 6 mobile harbour cranes with a genetic code for the future.Konecranes Gottwald Generation 6 Mobile Harbour Cranes are built on the genetic code of Electric, Smart, Powerful. They combine technology proven a thousand times over with innovation, and offer not only high performance and eco-efficiency...