Equipment
(Posted on 08/06/18)
Superior Industries, Inc., a U.S. based manufacturer and global supplier of bulk material processing and handling systems, says it's planning a dealer open house at its home factory in Morris, Minnesota. Known as IGNITE18, the two-day event is open to the company's equipment dealers of crushing, washing, screening and...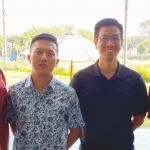 (Posted on 08/06/18)
MacGregor, part of Cargotec, has signed an order with Armada Rock Karunia (ARK) for a MacGregor heavy duty crane, type K5036-HD which will be installed on their new floating crane barge in Indonesia. The contract was signed on 9 May 2018 during Coaltrans Asia conference in Bali and it is booked into Cargotec's second quarter 2018...
(Posted on 08/06/18)
Pairing Wilhelmsen's extensive ships agency expertise and robust safety standards, with Airbus' expertise in aeronautical vertical lift solutions, the Agency by Air project is bringing shore-to-ship drone delivery to one of the busiest ports in the world, Singapore.With the largest Ships Agency network in the world, Wilhelmsen...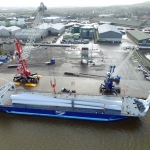 (Posted on 31/05/18)
Shannon Foynes Port Company (SFPC) has recently taken delivery of a new Liebherr Mobile Harbour Crane LHM 420, which was delivered fully assembled by sea from Liebherr's factory in Rostock.Shannon Foynes Port Company opted for a new Liebherr mobile harbour crane type LHM 420. The addition of this new state-of-the-art crane...
(Posted on 31/05/18)
CFS Handling has recently delivered three machines. One is to the Ukraine where they handle coal with ZPMC cranes, one to Nelcon 1 in Russia for coal handling and one in Italy for a Liebherr 550 mobile harbour crane for grain handling.CFS Handling operates in the design and construction of equipment for material handling and boasts...
(Posted on 31/05/18)
Global engineering group Cavotec has officially opened its new world-class production facility in Milan, which is set to ensure the Group's manufacturing and supply chain excellence in the years ahead.Some 150 guests attended an opening ceremony, among them key customers, suppliers, partners, local officials and dignitaries...