Equipment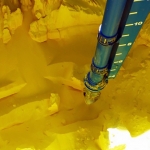 (Posted on 13/08/19)
Bruks Siwertell has signed a contract with Ashdod Port Company Ltd for the delivery of a Siwertell ST 490-M screw-type ship unloader destined to serve Israel's largest sea port. A fundamental requirement of the port was environmental protection; the totally-enclosed Siwertell unloader was the only system that could meet the...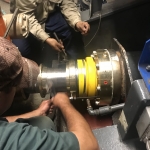 (Posted on 13/08/19)
Thordon Bearings has updated its TG100 seal installation requirements to facilitate cost-effective installation at all shipyards with the release of new instructional videos. Shipyard staff can quickly and easily install the state-of-the-art seal themselves, reducing the overall costs of TG100 procurement.Thordon Bearings designs...
(Posted on 13/08/19)
Engineers from global leader in bespoke dry bulk loading chutes, Cleveland Cascades, have been overseeing one of the company's latest chutes being assembled and installed in Spain. Working together on a new project with CHIA, of Spain, a Cascade chute for Clinker handling is being installed onto a Mobile Ship Loader at Malaga...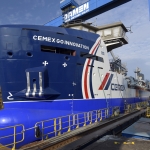 (Posted on 08/08/19)
The first of Damen's new Marine Aggregate Dredger class, a 103.5 metre MAD 3500, has been launched at Damen Shipyards Galati (DSGa) in Romania. The vessel, to be named the CEMEX Go Innovation, is the result of close cooperation between CEMEX UK Marine and Damen and represents the first of a new generation of efficient and...
(Posted on 08/08/19)
Superior Industries, Inc., a U.S. based manufacturer and global supplier of bulk material processing and handling systems, announces a new partnership with Canada's largest distributor of conveyor belting, components and other bulk material handling solutions. Belterra, a 50-year-old distributor with 19 locations throughout...
(Posted on 08/08/19)
Ecofix is a filler product which is used in combination with the Subsea Industries' award-winning Ecoshield hard coat system. Ecofix is specifically developed to provide ship owners and Original Equipment Manufacturers with a cost-effective solution for the repair of corroded or pitted steel surfaces.When a rudder or other...