Equipment
(Posted on 10/06/19)
BIO-UV Group, the pioneer in UV-based water treatment technologies, and Norwegian marine engineering and technical services provider TECO Tech have signed a cooperation agreement aimed at providing shipowners with a complete turnkey solution for the BIO-SEA advanced ballast water treatment system.The agreement was signed by Xavier...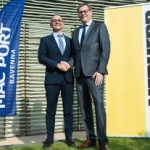 (Posted on 30/05/19)
Liebherr and Mac Port are celebrating 10 years of trustful cooperation. Mac Port is the official partner of Liebherr and offers an extensive range of port machinery for quay, offshore and earthmoving activities in Italy. In second generation, the Bilotti family is running Mac Port, a leading company in the sales and after sales...
(Posted on 30/05/19)
The newly inaugurated centre will support ABB's ship power, propulsion and automation technologies and expand service capabilities for ice-going vesselsThe new Marine Service Centre builds on a decade of local ABB services in support of ice-going vessels and relies on a strong core of engineering expertise in Murmansk. In...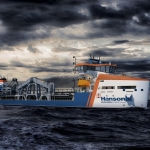 (Posted on 28/05/19)
Damen Shipyards Group and Hanson Aggregates Marine have signed a contract for construction of a Marine Aggregate Dredger (MAD) 3500 vessel. The ship will be used to extract aggregates offshore up to depths of 55 metres, for use in the onshore construction industry.Due for delivery in March 2021, the vessel will be constructed in...
(Posted on 28/05/19)
CM Labs Simulations, developer of Vortex training simulators, has announced the release of the Instructor Operating Station (IOS), CM Labs' dedicated solution for directing, monitoring, and assessing trainees. Designed to complement CM Labs' Vortex Port Equipment Simulators, the IOS provides rich functionality for directing...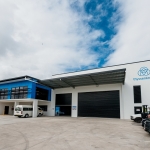 (Posted on 23/05/19)
Oceania thyssenkrupp Industrial Solutions has opened a new service centre in Brisbane, Australia, on 14 May, 2019. The new facility is ideally located to support thyssenkrupp's customer base on the East Coast of Australia as well as clients in Oceania that utilise major logistics channels through Brisbane.&nbsp...