Equipment
(Posted on 18/04/19)
In order to meet the digitalisation challenges of a diverse audience of stakeholders, in a robust, secure and cost-effective way, EUROYARDS members (Chantiers de l'Atlantique, Damen Shipyards Group, Fincantieri, Lürssen, Meyer Werft, Naval Group and Navantia) joined forces to harmonise data management solutions and standards...
(Posted on 18/04/19)
Spire Maritime, a leading Satellite AIS data analytics company, and AXSMarine have announced a strategic partnership to create a new level of accuracy in maritime intelligence for chartering and commodity markets. For the past 18 years AXSMarine solutions has provided state-of-the-art technology to monitor chartering activity in...
(Posted on 18/04/19)
Maritime safety equipment supplier Survitec has registered increased interest in its SOLAS 360 service in the run up to the entry-into-force of amendments to SOLAS.The SOLAS 360 service, launched last year to ease the operational burden of ship operators by keeping vessels' regulatory compliant, is gaining traction as the...
(Posted on 18/04/19)
Alfa Laval PureBallast 3, the third generation of Alfa Laval's ballast water treatment technology, has received an updated type approval from the U.S. Coast Guard (USCG). The new certificate makes it possible for vessels to deballast in United States waters with a holding time of just 2.5 hours.Alfa Laval PureBallast 3 was...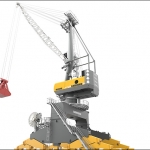 (Posted on 08/04/19)
The Liebherr Group has achieved a turnover of € 10,551 million in 2018, breaking through the € 10 billion barrier for the first time in the company's history. This represents an increase of € 739 million, or 7.5 %, compared with the previous year.Despite a slight decline in overall economic growth, 2018 was...
(Posted on 08/04/19)
AXSMarine, a pioneer and market leader in the provision of comprehensive solutions for shipping professionals, has demonstrated the latest additions to its robust suite of chartering solutions at the Connecticut Maritime Association (CMA) Shipping 2019. The company presented its ever evolving portfolio that now includes broader...