Equipment
(Posted on 04/07/19)
Damen Shipyards Group has announced the publication of its Corporate Social Responsibility (CSR) Report 2018. The company publishes the report annually, communicating both financial and non-financial information relating to the group's CSR activities from the preceding year. Previously the report has been published as the...
(Posted on 04/07/19)
Following the acquisition by Oakley Capital of Seagull and Videotel, the group, with more than 20,000 vessels using their products and the largest library of learning courses available, affirms its position as the world's largest Maritime eLearning companies. The group announces a commitment to invest more than $30 Million...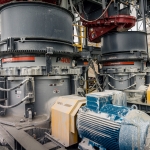 (Posted on 04/07/19)
Superior Industries Inc., a U.S. based manufacturer and global supplier of bulk material processing and handling systems, announced that a limited lifetime warranty now comes standard with new Patriot Cone Crushers. One-of-a-kind in dry bulk crushing, the no cost extended warranty covers the cone's major components including...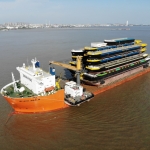 (Posted on 27/06/19)
Heavy-lift vessel Black Marlin departed Shanghai on Monday, 17th June. On deck with eighteen Concordia Damen inland shipping vessel hulls and a Damen Crane Barge 6324, bound for Rotterdam. Concordia Damen regularly conducts such heavy-lift transportations as a means of providing its customers with cost-efficient vessels.The hulls...
(Posted on 27/06/19)
MacGregor, part of Cargotec, announced on 8 February, 2018 that it has entered into an agreement to acquire the marine and offshore businesses of TTS Group ASA. The acquisition is subject to regulatory approvals from the competition authorities in Germany, South Korea and China. MacGregor announced the approval from the German regulator...
(Posted on 27/06/19)
PortX (Rotterdam, Netherlands) and Helm Operations (Victoria, BC, Canada) have announced that they have signed a new strategic partnership agreement to combine PortX's cutting-edge AI-based port dispatching system, OptiPort, with Helm CONNECT, the world's leading harbour dispatching and operations software.Already used...