Equipment
(Posted on 15/06/18)
Flying Cement, a member of the Lahore-based conglomerate, Flying Group of Industries, is planning to increase its production considerably by building an 8,000t/dy kiln line. Aumund Fördertechnik won the order for two of the main bucket elevators required to achieve this project, those for the raw meal silo and the heat exchanger...
(Posted on 15/06/18)
A global leader in bulk handling equipment has helped one of the largest steel manufacturers in the world to train new staff on conveyor operations and safety at one of the company's newest facilities. After expanding the existing plant, Tata Steel Limited constructed a dedicated training facility and invited Martin Engineering...
(Posted on 15/06/18)
J D Neuhaus, manufacturer of air hoists, cranes, trolleys and monorail hoists, has further enhanced their remote control capabilities. This innovation will bring exceptional ease-of-use and convenience to users across all industries. Three remote control models are now available, RC-X, RC S and RC-SP, each comprising of a transmitter...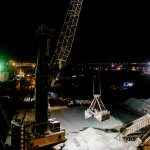 (Posted on 08/06/18)
Phoenix Lighting has been selected by RAK Ports to provide EcoMod 2 LED floodlights to retrofit both Liebherr and Konecranes Gottwald mobile harbor cranes.A privately held company founded in 1892, Phoenix has evolved alongside the city of Milwaukee and is still proud to call it home. Over 126 years later, Phoenix continues to be...
(Posted on 08/06/18)
A few years ago the first E-Crane was installed in Desa Muara Kaman, Kota Bangun, situated where the Kedang Kepala and Mahakam River meet. Fast forward to May 2018, and another E-Craneinstallation is underway near Balikpapan on the Indonesian island of Kalimantan.The past week was used to meticulously prepare...
(Posted on 08/06/18)
Superior Industries, Inc., a U.S. based manufacturer and global supplier of bulk material processing and handling systems, says it's planning a dealer open house at its home factory in Morris, Minnesota. Known as IGNITE18, the two-day event is open to the company's equipment dealers of crushing, washing, screening and...