Konecranes wins China cranes on barges order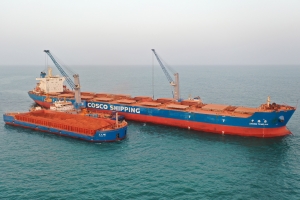 (Posted on 11/02/21)
In the first quarter of 2021, Jiangsu Zhenjiang Shipyard (Group) Co., Ltd. ordered two eco-efficient Konecranes Gottwald Model 8 Cranes on Barge. The cranes will be operated by Cosco Shipping Bulk Co. Ltd. (Cosco Bulk) off the coast of Guinea, Africa.
Home to the world's largest reserves of bauxite, the Guinea mining industry has been expanding. Cosco Bulk, a subsidiary of a world-leading shipping company, China Cosco Shipping Corporation Limited, found they needed more cranes to cope with the volume. These two new cranes will transship bauxite for the production of aluminum from river barges onto ocean-going vessels and will bring the total number of Konecranes Gottwald cranes on barge in the region to twelve.
"We will continue to operate our two new cranes on barge as part of our contract with China Aluminum Group," says Management Team of the Technical Division of Cosco Bulk. "Transshipping raw materials at sea quickly and safely is a key part of an efficient supply chain. We last bought Konecranes Gottwald cranes on barge in 2019, and they have shown themselves to be productive and reliable in a rough open sea environment. So when we needed more capacity, we were happy to order the same cranes again."
"It's always a pleasure to receive a repeat order from a satisfied customer," says Jerry Fann, Sales Director, Konecranes Port Solutions. "Our technology has proved itself once again under challenging conditions. As the number of Konecranes Gottwald cranes on barge grows around the world, we have consolidated our leading position in this market. Our cranes on barge capabilities have been growing steadily since launching in 2004, and we will continue to improve them as technology develops."
Specially built for use on the open sea, the cranes provide a maximum outreach of 43 m and a powerful 63 t grab curve for continuous-duty bulk handling. They are designed in accordance with Lloyd's Register Code for Lifting Appliances in a Marine Environment, which allows them to be operated at wind speeds up to 24 m/s and at maximum wave heights of 2.5 m.
Konecranes is a world-leading group of Lifting Businesses™, serving a broad range of customers, including manufacturing and process industries, shipyards, ports and terminals. Konecranes provides productivity enhancing lifting solutions as well as services for lifting equipment of all makes. In 2019, Group sales totalled EUR 3.33 billion.
Latest News
(Posted on 20/03/23)
Thordon Bearings is supplying its grease-free, self-lubricating ThorPlas-Blue bearing material to a... Read more
(Posted on 20/03/23)
French water treatment specialist BIO-UV Group has appointed Laurent-Emmanuel Migeon as its new Chairman... Read more
(Posted on 07/03/23)
With Wärtsilä's CII Dashboard, Anglo-Eastern is now able to make better informed decisions... Read more
(Posted on 07/03/23)
Bruks Siwertell has completed the commissioning of two large-scale Siwertell ST 790-D-type ship unloaders... Read more
(Posted on 28/02/23)
A consortium including technology group Wärtsilä has secured European Union funding to develop... Read more
(Posted on 28/02/23)
Bruks Siwertell has received an order for a next-generation Siwertell road-mobile ship unloader from... Read more
(Posted on 24/02/23)
Global Survival Technology solutions provider Survitec has introduced a new, formalised pre-inspection... Read more
(Posted on 24/02/23)
The slightest deviation in the machining, polishing, and finishing of ships' propeller blades... Read more
(Posted on 20/02/23)
Bühler expanded its business and improved profitability in an uncertain and volatile business environment... Read more
(Posted on 20/02/23)
Wärtsilä plans to further focus on end-to-end voyage optimisation and to move part of Voyage... Read more