Magazine » Readership Profile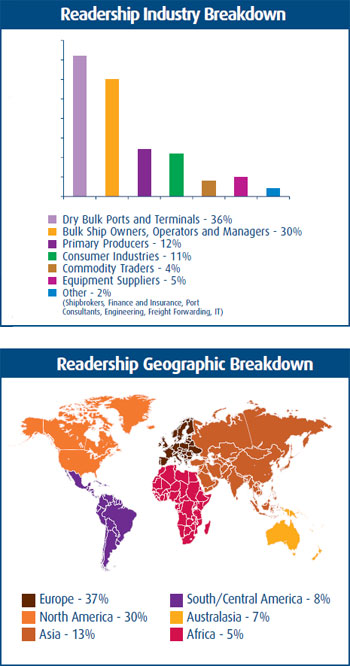 Dry bulk shipping, commodities, ports, logistics and handling equipment news are all reviewed in every issue of IBJ. As the leading magazine for the maritime dry bulk industry IBJ includes regular Grain, Coal, Iron and Steel outlooks. The Bulker fleet is also tracked through the publication of ship building data, complimented by coverage of bulk ship repair and conversion trends.
A special editorial features programme covering commodities, technical and regional issues provides expert analysis and comment for IBJ's influential readership.
IBJ's editor and network of experienced bulk industry journalists, along with its high level of business contacts keep decision makers informed on their markets.
lBJ has been established as the magazine for the maritime dry bulk industry's leading executives worldwide since 1981. IBJ's database has been maintained and extended so that over 6,000 copies of every issue are distributed to subscribers, leading dry cargo supply chain decision makers worldwide and visitors to major industry events.
From Producers / Exporters
Iron Ore, Coal and Coke, Grains, Bauxite and Alumina, Fertiliser Raws - Phosphate, Potash, Sulphur, Urea. Fertiliser Compounds - TSP, MAP, DAP. Quarry Products - Gypsum, Granite, Limestone. Metal Concentrates, Industrial Minerals, Food Products, Industrial Chemicals and Forest Products. Industrial By-Products - Petcokes, FGD Gypsum and Fly Ash
Through Transportation
Export Ports and Terminals, Seaborne Transportation, Shipowners, Operators, Managers, Agents, Charterers, Brokers and Financial Institutions, Import Ports and Terminals, Inland Transportation
To Consumer Industries
Iron and Steel, Power Utilities, Foods and Construction, Light Metals and Alloys, Pulp and Paper, Paints and Pigments, Glass and Ceramics, Plastics and Polymers, Chemicals.