Equipment
(Posted on 08/06/18)
Pairing Wilhelmsen's extensive ships agency expertise and robust safety standards, with Airbus' expertise in aeronautical vertical lift solutions, the Agency by Air project is bringing shore-to-ship drone delivery to one of the busiest ports in the world, Singapore.With the largest Ships Agency network in the world, Wilhelmsen...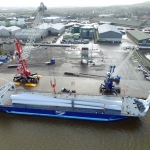 (Posted on 31/05/18)
Shannon Foynes Port Company (SFPC) has recently taken delivery of a new Liebherr Mobile Harbour Crane LHM 420, which was delivered fully assembled by sea from Liebherr's factory in Rostock.Shannon Foynes Port Company opted for a new Liebherr mobile harbour crane type LHM 420. The addition of this new state-of-the-art crane...
(Posted on 31/05/18)
CFS Handling has recently delivered three machines. One is to the Ukraine where they handle coal with ZPMC cranes, one to Nelcon 1 in Russia for coal handling and one in Italy for a Liebherr 550 mobile harbour crane for grain handling.CFS Handling operates in the design and construction of equipment for material handling and boasts...
(Posted on 31/05/18)
Global engineering group Cavotec has officially opened its new world-class production facility in Milan, which is set to ensure the Group's manufacturing and supply chain excellence in the years ahead.Some 150 guests attended an opening ceremony, among them key customers, suppliers, partners, local officials and dignitaries...
(Posted on 31/05/18)
The developer of the barnacle-repelling antifouling ingredient Selektope have become members of the non-profit organization Clean Shipping Index (CSI).Through its membership, I-Tech AB will encourage environmentally responsible decisions around antifouling coating procurement to users of CSI's holistic labeling system which...
(Posted on 31/05/18)
The new LPS 420 E is the latest extension of the Liebherr mobile harbour crane product range. The newly designed machine is a purely electric driven portal crane. It is a universal all-rounder and a key asset for handling every type of cargo, from containers to bulk, general cargo and heavy lifts up to 124t. The forward-looking...