Zuidnatie raises capacity with Konecranes Gottwald Generation 6 MHC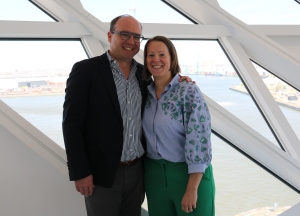 (Posted on 02/06/23)
Belgian logistics and transportation company Zuidnatie NV ordered their first Generation 6 Konecranes Gottwald Mobile Harbour Crane for operations in Antwerp, as they continue to build more capacity while lowering emissions and improving energy efficiency. With delivery in Q3, the crane will be assembled on site for commissioning and handover in Q4 2023.
As their business grows and the market demands more eco-efficiency throughout the supply chain, Zuidnatie ordered a Generation 6 Konecranes Gottwald Mobile Harbour Crane as an easily adaptable, high-performance hybrid solution at Antwerp, one of Europe's largest ports for handling both general cargo and containers.
"We've been using Konecranes Gottwald Mobile Harbour Cranes in logistics for over 25 years. As their mobile harbour cranes are also assembled at our site for delivery to other Konecranes customers, we've had the chance to see the new crane up close and gain deeper insight into its technology. This convinced us that the Generation 6 would be the right solution for our own operations," says Stephanie Feys, CEO of Zuidnatie.
"This new crane will be the thirteenth Konecranes Gottwald Mobile Harbor Crane for Zuidnatie. The order underlines the strength of our long and special business partnership and confirms Zuidnatie's confidence in Konecranes," says Alexandros Stogianidis, Regional Sales Director Benelux, Port Solutions, Konecranes.
The order is for one Generation 6 Konecranes Gottwald ESP.6 Mobile Harbour Crane, with a working radius of up to 49 m and a maximum capacity of 125 t to serve ships up to Panamax class. It will be used to handle breakbulk and general cargo. Strong lifting capacity curves, improved handling rates and a high classification ensure a long servicelife. It uses the innovative Konecranes hybrid drive, which consists of a modern diesel engine Alexandros Stogianidis (Konecranes) and Stéphanie Feys (Zuidnatie) paired with an ultracapacitor that can be recharged by energy recovered from lowering and braking motions. This gives the power needed for peak performance, while saving fuel on lighter loads. Prepared for an external power supply, the crane offers the potential for even higher ecoefficiency when connected to the harbour mains.
This order is part of Ecolifting, Konecranes' continuous work to decrease the carbon footprints of our customers. From eco-optimizing diesel drives, to hybridization and fully-electrified fleets, we will continue to do more with less.
Latest News
(Posted on 27/09/23)
EMS-Tech Inc., a global leader in engineering and innovation within the dry bulk material handling industry... Read more
(Posted on 26/09/23)
MacGregor, part of Cargotec, has received a significant, more than EUR 25 million order for general... Read more
(Posted on 26/09/23)
HEMEXPO, Hellenic Marine Equipment Manufacturers and Exporters, a leading suppliers and exporters association... Read more
(Posted on 19/09/23)
ClassNK has conducted third-party certification for the CO2 emissions reductions of "JGreeX&trade... Read more
(Posted on 12/09/23)
Charterers can save hundreds of thousands of dollars of unnecessary demurrage costs by drilling down... Read more
(Posted on 08/09/23)
Nippon Kaiji Kyokai (ClassNK) has joined the major classification societies to amend its rules relating... Read more
(Posted on 08/09/23)
On behalf of SLPLUS Holding and based on their trust in Feyz Group's operational capabilities,... Read more
(Posted on 08/09/23)
Leading corporate wellbeing provider OneCare Solutions (OCS) has launched the OneCare Solutions Mobile... Read more
(Posted on 04/09/23)
With CCS-Ready scrubbers now being sold at pace, Wärtsilä's studies across a range of... Read more
(Posted on 04/09/23)
German Ship Repair Jamaica Limited (GSRJ), a private joint venture of German, Turkish and Jamaican investors... Read more