Equipment
(Posted on 27/06/19)
PortX (Rotterdam, Netherlands) and Helm Operations (Victoria, BC, Canada) have announced that they have signed a new strategic partnership agreement to combine PortX's cutting-edge AI-based port dispatching system, OptiPort, with Helm CONNECT, the world's leading harbour dispatching and operations software.Already used...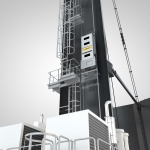 (Posted on 21/06/19)
Liebherr Maritime has presented its new LiUP crane driver elevator for mobile harbour cranes at this year's terminal operator trade fair, TOC Europe in Rotterdam this week. The in-house developed lift has an innovative drive technology and is powered by an electric motor with lithium-ion battery and energy recovery function...
(Posted on 21/06/19)
Following increased market demand for its low-friction hydrogel-containing hull coatings, Nippon Paint Marine (NPM) has now applied the revolutionary technology to its standard range of antifoulings to provide a cost-effective solution for reducing fuel consumption.Hydrogel, already used in the company's LF-Sea 150 HyB and...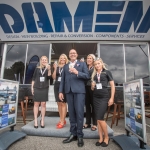 (Posted on 17/06/19)
On 12th of June, Damen Anchor & Chain Factory (AKF) signed a joint partnership agreement with Fendercare. The agreement came about from a mutual understanding that both parties' clients were seeking wider availability of products.Under the agreement, the partnership will build up complementary stock of anchors, chains...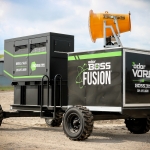 (Posted on 17/06/19)
One of the USA's most experienced global innovators of dust and odour control technology has developed a new, autonomous mobile system that uses no water to reduce site odours from soil remediation, landfills, food processing, composting facilities, wastewater operations and other large-scale applications. Unlike conventional...
(Posted on 17/06/19)
ABB Turbocharging has upgraded digital platform ABB Ability Tekomar XPERT, for use on a fleet-wide scale.Offering an easy-access web portal interface, ABB Ability Tekomar XPERT for fleet provides accurate insight into engine performance from fleet to vessel level with all key indicators available at a glance.Tekomar XPERT for fleet...