Equipment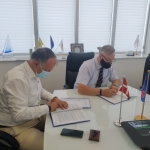 (Posted on 13/07/21)
Mastermind Shipmanagement Ltd., Navkratis Ltd., and DESMI Ocean Guard A/S have announced that Mastermind Shipmanagement has selected the CompactClean Ballast Water Management System (BWMS) for installation on its owned fleet consisting of dry-bulk, break-bulk, multipurpose vessels, and cement carriers.DESMI Ocean Guard A/S develops...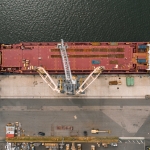 (Posted on 11/07/21)
Since the start of production in 2005, Liebherr-MCCtec Rostock GmbH has manufactured and delivered well over 1,000 maritime cranes. Today, the numerous mobile harbour, ship and offshore cranes are in use in over 100 countries on all continents. Now the 1,300th crane has left the Rostock premises to its destination in Ghana.Slowly...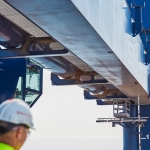 (Posted on 07/07/21)
Bruks Siwertell has now completed the commissioning of a new Siwertell ST 640-M screw-type ship unloader in Houston, Texas, USA; as far upstream the Buffalo Bayou as ocean-going vessels can go. Its undisclosed owners have switched from bagged to bulk deliveries of cement and building materials, and supporting this transition is...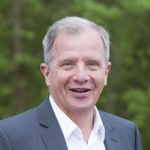 (Posted on 05/07/21)
After more than two decades at the helm, Per Karlsson has stepped down as President, Bruks Siwertell AB and Port Technology Division, Bruks Siwertell Group, passing the torch onto Jonas Fack, effective 1st July. The company will continue to benefit from Karlsson's vast experience and insight in his capacity as Executive Vice...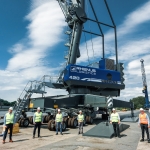 (Posted on 05/07/21)
Rhenus Midgard is replacing a more than 20-year-old Liebherr LHM 320 with a new Liebherr machine. The LHM 420, recently delivered by project logistics specialist Rhenus Project Logistics, will mainly handle breakbulk and containers at the Dradenau Terminal in the Port of Hamburg. In addition to a significant increase in productivity...
(Posted on 05/07/21)
Already delivering decisive efficiency gains to an ever-increasing variety of ship types, ABB Azipod electric propulsion now benefits from an automated steering function that helps further minimize fuel consumption and emissions.The new digital solution, ABB Ability™ OptimE – Toe Angle Optimization for Propulsion, supports...