Equipment
(Posted on 03/10/19)
Rudders, thrusters, nozzles and other underwater running gear are exceptionally prone to corrosion and cavitation damage. Cavitation is caused by the spinning of propeller blades. If running gear is not given the proper protection against this the damage can be severe.This leads to expensive and time-consuming repairs in drydock...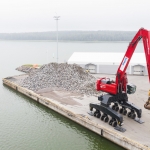 (Posted on 27/09/19)
Mantsinen has brought a new material handling machine, Mantsinen 140, to the market. It is the firstportal machine of this size with turning wheels, which enables sideways movement and efficientuse in limited space. Other manufacturers do not have an equivalent option available.Mantsinen 140 is designed mainly to be used at ports...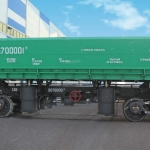 (Posted on 27/09/19)
Research and production corporation "United Wagon Company", Russia's largest manufacturer of freight cars , and Polymetal, which is one of the TOP-20 producers of gold and TOP-5 producers of silver globally and holds assets in Russia and Kazakhstan, have signed an agreement on the supply of 55 dump cars by the...
(Posted on 27/09/19)
A new secondary conveyor belt cleaner has been engineered specifically for challenging applications where traditional designs fail to deliver the necessary performance or wear life.The CleanScrape Secondary Cleaner (CS2) from Martin Engineering is particularly effective in conditions where continuous production is a high priority...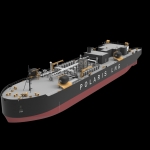 (Posted on 24/09/19)
The technology group Wärtsilä will supply its LNG Cargo Handling System for a new 5400 m3 LNG bunker barge being built in the USA. This latest order further endorses Wärtsilä's leading position in LNG systems for the marine sector, and its key role in supporting the growing acceptance of LNG fuel by North...
(Posted on 24/09/19)
BIO-UV Group has unveiled a modified, more compact version of its low flow rate BIO-SEA ballast water treatment system (BWTS) to meet market demand for retrofit installations aboard vessels where engine room space is limited.The BIO-SEA Easy-To-Fit skid is a modified version of its small flow rate range of BIO-SEA 30, 60 and 90...