Equipment
(Posted on 14/05/18)
Superior Industries, Inc., a U.S. based manufacturer and global supplier of bulk material processing and handling systems, says it has resolved its disputes with Masaba, Inc. regarding Superior's truck unloader patents. As part of that resolution, Masaba has been granted a non-exclusive license to manufacture, sell and offer...
(Posted on 14/05/18)
The China-US Quality Summit of 2018 has been held in Seattle. Huang Qingfeng, President and Deputy Secretary of ZPMC, attended the Conference and made a speech entitled "Improve smart manufacturing capacity of port machinery to meet development requirements of the Internet of Things".ZPMC is a Shanghai based equipment...
(Posted on 14/05/18)
Cleveland Cascades have commissioned a 1350 size ship loading chute, loading Coal and Coke, located in Colombia.The chute is supplied with a pivoting head chute, has an extended length of 17 meters and a retracted height of 5.5 meters. The Galvanised Steel Chute is ceramic lined and is designed to handle loading rates between 600...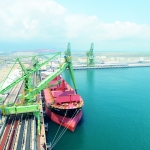 (Posted on 09/05/18)
Cargotec has signed an agreement with JCE Invest AB to establish a joint venture, Bruks Siwertell Group, specialised in dry bulk handling. The new joint venture will own Siwertell AB (previously part of Kalmar Business Area within Cargotec) and BRUKS Holding AB (previously part of JCE Group). Both companies are world-leading suppliers...
(Posted on 09/05/18)
A pioneer in atomized mist technology for dust suppression has announced an industry-leading upgrade to the company's product warranty. Having previously set the industry standard with 3 year/3,000-hour coverage, the company has increased the term to a 5 year or 5,000-hour replacement warranty on the direct drive fan motor...
(Posted on 09/05/18)
The bumper grain harvest in South Australia has led to record throughput for Semaphore Containers in South Australia. With more loading activities there is more dust being generated. Being a proactive company Semaphore engaged Blue Water Misting to reduce dust in their operations.Blue Water Misting (BWM) analyzed the site in consultation...