Equipment
(Posted on 31/05/18)
The new LPS 420 E is the latest extension of the Liebherr mobile harbour crane product range. The newly designed machine is a purely electric driven portal crane. It is a universal all-rounder and a key asset for handling every type of cargo, from containers to bulk, general cargo and heavy lifts up to 124t. The forward-looking...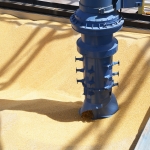 (Posted on 24/05/18)
Siwertell, part of Bruks Siwertell Group, has secured an order from Mexico's Gramosa Agroalimentos SA for a high-capacity unloader to serve the company's new agri-bulk terminal located in the Gulf of Mexico port, Veracruz. The unloader was chosen after out-performing all competitor systems during a four-month selection...
(Posted on 24/05/18)
Konecranes has won another order for two Konecranes Gottwald Floating Cranes. The order was placed by Winning Logistics Company Limited in the first quarter of 2018. With these new cranes, Winning has ordered eight such cranes in a short time.The new order follows an order placed with Konecranes only last fall. The floating cranes...
(Posted on 24/05/18)
Commercial shipping is waking up to the growing threat that drones pose to the safety and security of vessels. Terrorist use of drones deploying explosives is already well documented and the potential for a drone to deliver an explosive charge through the deck of an oil/gas tanker or on a passenger ship with potentially catastrophic...
(Posted on 24/05/18)
Rivertrace, a market leading company with over 30 years' experience of water monitoring, has recently signed an agreement with BIO-UV to represent their BIO-SEA Ballast Water Treatment system in Thailand, Philippines, Indonesia and Vietnam which came into force during May 2018. BIO-SEA by BIO-UV, based in Lunel, France...
(Posted on 24/05/18)
A global leader in conveyor technology has helped mitigate dust emissions at the underground limestone mine of a cement production plant by implementing an innovative transfer point solution. Using a specially-designed dust control unit (DCU) to spray a surfactant onto both sides of the cargo stream during transfer onto the main...