Equipment
(Posted on 20/05/19)
Alfa Laval will make a strong showing at this year's Nor-Shipping, Northern Europe's leading international forum for maritime industry. While diverse equipment, knowledge and services will be on display, the stand will have a single focus: partnership with customers to secure lifetime vessel performance. Having entered...
(Posted on 14/05/19)
Liebherr has handed over two Liebherr mobile harbour cranes type LHM 550 to Maputo Port Development Company (MPDC). The LHM 550 delivers high capacity and fast movements for an outstanding productivity in bulk handling operation.Maputo is the capital of the East African state of Mozambique. The port city on the Indian Ocean is one...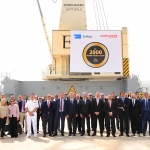 (Posted on 14/05/19)
The 2,000th Konecranes Gottwald Mobile Harbor Crane has been inaugurated in a formal ceremony at the Ership terminal in the Mediterranean port of Cartagena in southeastern Spain.The crane is Ership's new eco-efficient Konecranes Gottwald Model 6 mobile harbour crane, in the G HMK 6407 B four-rope variant. They will use it...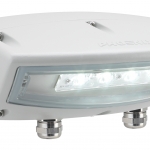 (Posted on 14/05/19)
Phoenix has introduced the latest addition to its durable LED product line – the Wayfinder. Built with custom optics specifically for ports, the Wayfinder has the highest lumen/watt output in its class, delivering 1,100 lumens to accessways, walkways, stairways, platforms and other small areas. This powerful yet compact light...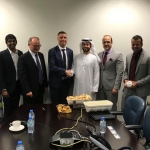 (Posted on 08/05/19)
Abu Dhabi-based shipping company, ADNOC Logistics & Services has entrusted its entire safety equipment servicing to VIKING with a five-year contract.Maritime safety equipment manufacturer and global service provider VIKING Life-Saving Equipment A/S (VIKING) has won a tender to work with world-class shipping company ADNOC Logistics...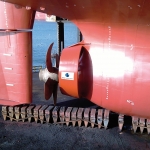 (Posted on 08/05/19)
Within ten years, the Becker Mewis Duct has become a globally successful product. Demand for the energy-saving device is rising again as the new IMO environmental guidelines come into force next year. Accordingly, there will be great interest at the Nor-Shipping trade fair taking place in Oslo from 4 to 7 June 2019. Becker Marine...