Equipment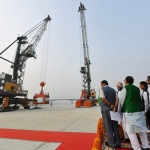 (Posted on 11/12/18)
Liebherr mobile harbour cranes are working on the first Indian inland waterway terminal in Varanasi. India's Prime Minister Narendra Modi officially inaugurated the newly developed port on the river Ganga.Varanasi is located in northern India 780 kilometres east of the Indian capital Delhi, predominantly on the left bank of...
(Posted on 11/12/18)
M.A.D.S (Marine Anti Drone Systems) the innovative drone detection system has announced a four week trial of its system by Port of Amsterdam.The focus of the trial for the Port is to build understanding of how, where and why drones are flying over the Port of Amsterdam.The Port has identified the potential of drones for numerous...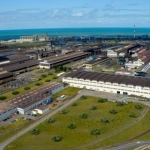 (Posted on 11/12/18)
DILLINGER France has entrusted TAIM WESER with the design, manufacture and assembly of a new bridge crane to be located in Hall C of its Dunkerque plant, in France.The German steel group DILLINGER is the European leader in the production of steel plates of great thickness and width. The company produces more than 2 million tons...
(Posted on 11/12/18)
Research and production corporation United Wagon Company will supply 75 high-capacity flat cars for timber transportation to KASTAMONU, one of Europe's largest wood-processing companies.The first batch of flat cars, consisting of 30 model 13-6852-02 cars with loading volume of 122 m3 and length of 40 feet, has already...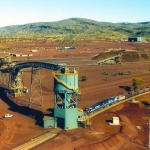 (Posted on 03/12/18)
Thyssenkrupp Industrial Solutions has been awarded one of the largest fabrication and construction projects the company has ever handled in Western Australia. Under the contract, thyssenkrupp will design, supply, construct and commission large-scale stockyard machines for the BHP South Flank iron ore project in the central Pilbara...
(Posted on 03/12/18)
Cleveland Cascades recently supported with site services assistance for South 32 in Bunbury, Australia to optimise the performance of the Ship Loading chute.Cleveland Cascades is a specialist in the design and manufacture of bespoke dry bulk loading chutes. Based in the North East of England, the company has built a population of...