New Nippon coating makes its mark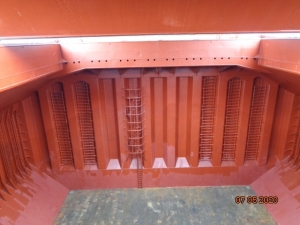 (Posted on 27/05/20)
A new coating developed to deliver greater protection to bulk carrier cargo holds has gained considerable market acceptance with almost 40 applications since its official introduction in August last year.
Nippon Paint Marine's new Neoguard Toughness has already been applied to the holds of 37 bulk carriers operated by various owners.
"We developed Neoguard Toughness following demand from shipowners for a more impact-resistant epoxy coating system for holds and hatch coamings, but we didn't expect to have quite as many applications so soon after market launch," said Nippon Paint Marine Marketing General Manager Makoto Nakagawa.
"Neoguard Toughness is undoubtedly one of the hardest, toughest coatings we have produced for the commercial marine market."
The thickness of the highly solid epoxy coating is particularly suited to protecting steel structures from abrasion and impact damage from iron ore, coal, and other bulk cargoes, while providing long-term protection against corrosion. The product satisfies the requirement of the U.S. FDA for compatibility with grain and feed.
"Mechanical damage to cargo holds from abrasive cargoes and high impact loading procedures is the primary reason traditional coatings fail, which if goes unchecked can lead to corrosion and structural failure. Neoguard Toughness reduces this risk," said Nakagawa.
Resistant to cracking from impacts of up to 4 joules, the hardened paint is applied to achieve a dry film thickness of 250µm. No special equipment or machinery is required for application; the coating is applied using a conventional air spray, with a full cure dry taking 5 days at 30°C.
Commenting on the coatings performance, Ahmet Hamza, General Coordinator at Iskenderun Shipping, which in November applied the coating to the holds of the 32,676dwt Iskenderun M, said: "So far so good. We have found Neoguard Toughness offers significant cost savings by reducing the maintenance and repair requirement. The coating's easy cleaning properties have also allowed for quick and efficient turnaround times between cargoes."
While hold cleaning and reduced maintenance are obvious benefits, Nippon Paint Marine Director John Drew added that the toughness of the coating can mitigate against port delays following failed cargo hold inspections.
"Neoguard Toughness significantly improves the chances of passing inspection. The coating enables ship owners to keep their cargo holds in excellent condition," he said.
Latest News
(Posted on 07/12/23)
In an initiative set to be transformational for ship design while protecting the oceans from pollution... Read more
(Posted on 03/12/23)
Ship design, particularly the design of bulk carriers, presents particular challenges when it comes... Read more
(Posted on 26/11/23)
VIKING Life-Saving Equipment, a global leader in maritime safety solutions, is launching an innovative... Read more
(Posted on 26/11/23)
Damen's client Gerdes Green has received a subsidy from the German Government for the investment... Read more
(Posted on 17/11/23)
A first of its kind training course for the Middle East has been held to teach mariners about the basic... Read more
(Posted on 13/11/23)
Wärtsilä ANCS, part of technology group Wärtsilä, has delivered to Seaspan, a marine... Read more
(Posted on 31/10/23)
The flag raising ceremony for three new ASD Tugs has taken place in Gdansk, Poland. In the presence... Read more
(Posted on 26/10/23)
A new immersive crane simulator that can recreate high-risk scenarios without putting drivers or other... Read more
(Posted on 23/10/23)
Vesto Ropes, a global leader in innovative steel wire-rope solutions, has announced a strategic partnership... Read more
(Posted on 23/10/23)
Bedeschi S.p.a. has been awarded a contract for the design and supply of a new longitudinal storage... Read more