Equipment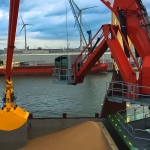 (Posted on 01/11/18)
Cooper Specialised Handling has released details of a contract award for the supply of a new Mantsinen 300M – the world's largest hydraulic crane - to Belfast Harbour.Belfast Harbour is Northern Ireland's principal maritime gateway and logistics hub, serving the Northern Ireland economy and increasingly that of the Republic...
(Posted on 01/11/18)
Liebherr and Karmsund Havn IKS have just signed a contract for a Liebherr LHM 550. With a maximum lifting capacity of up to 154 tonnes and a maximum outreach of 54 metres, this crane will be the strongest mobile harbour crane in Norway. The crane can be operated with diesel or electric motors and will mainly be used for container...
(Posted on 01/11/18)
The technology group Wärtsilä has divested its pumps business to Solix Group, a Scandinavian investment company with offices in Copenhagen, Denmark and Malmö, Sweden. Wärtsilä Pumps has belonged to the Wärtsilä Marine Solutions organisation and became part of the company along with the acquisition...
(Posted on 01/11/18)
MacGregor and China State Shipbuilding Corporation (CSSC) have signed a Letter of Intent (LOI) on strategic cooperation. The LOI was signed on 29 October, 2018 at an executive level meeting in Beijing led by Lei Fanpei, the CSSC Chairman and Michel van Roozendaal, MacGregor President. MacGregor sees that this cooperation...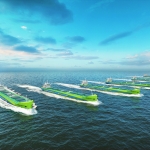 (Posted on 24/10/18)
The Project Forward initiative led by Athens-Based Arista Shipping, with Wärtsilä as one of the participants, demonstrates that with LNG as fuel, an advanced hull design, and highly efficient propulsion machinery, it will be possible to meet the IMO's target for a 40 percent reduction in carbon intensity by 2030....
(Posted on 24/10/18)
KVH Videotel have introduced a new training package, "Seafarers Mental Health and Wellbeing," during the 5th Annual International Shipowning & Shipmanagement Summit in London, and announced that the package will be available free of charge throughout the industry due to the critical importance of the topic. The programme...