Siwertell unloader for Mexican terminal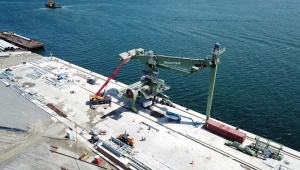 (Posted on 04/11/19)
Bruks Siwertell has delivered a high-capacity Siwertell ship unloader to Gramosa Agroalimentos SA. It was ordered in 2018 to ensure efficient, environment-friendly and careful material handling for Gramosa Agroalimentos's new agri-bulk terminal in Veracruz, Mexico.
"The unloader was chosen after out-performing all competitor systems during a four-month selection process," highlighted Patrik Henryson, Sales Manager, Bruks Siwertell.
The new rail-mounted Siwertell ST 640-M unloader is totally-enclosed and offers the terminal a continuous rated capacity of 1,200t/h. Its seamless flexibility enables it to handle a number of different grains such as corn, rice, wheat, soya beans and canola seeds without any loss of efficiency or cargo quality.
At the time of the order, Gramosa Agroalimentos said that it chose a Siwertell unloader because of its performance across multiple grains: "Other systems on the market did not compare.
"The conveying speed of the Siwertell screw-type unloader means that the grain is not damaged during handling, which will give us added value and differentiate us from our competition," said Gramosa Agroalimentos. "The Siwertell system was selected after considering many factors and multiple equipment comparisons. Analysis included operating principles and mechanisms, investment costs, as well as operating costs."
The new unloader was delivered fully-assembled from China via heavy-lift ship in October 2019 and will be tested and commissioned on site in Veracruz Port by Bruks Siwertell when required.
Bruks Siwertell design, produce and deliver systems for loading, unloading, conveying, storing, and stacking and reclaiming dry bulk materials, alongside equipment for chipping, screening, milling and processing wood for the biofuel, board, saw mill, pulp and paper industries. All equipment is designed to ensure environmentally-friendly and efficient cargo operations.
Latest News
(Posted on 24/03/23)
Bruks Siwertell has secured an order for a next-generation Siwertell road-mobile ship unloader, which... Read more
(Posted on 20/03/23)
Thordon Bearings is supplying its grease-free, self-lubricating ThorPlas-Blue bearing material to a... Read more
(Posted on 20/03/23)
French water treatment specialist BIO-UV Group has appointed Laurent-Emmanuel Migeon as its new Chairman... Read more
(Posted on 07/03/23)
With Wärtsilä's CII Dashboard, Anglo-Eastern is now able to make better informed decisions... Read more
(Posted on 07/03/23)
Bruks Siwertell has completed the commissioning of two large-scale Siwertell ST 790-D-type ship unloaders... Read more
(Posted on 28/02/23)
A consortium including technology group Wärtsilä has secured European Union funding to develop... Read more
(Posted on 28/02/23)
Bruks Siwertell has received an order for a next-generation Siwertell road-mobile ship unloader from... Read more
(Posted on 24/02/23)
Global Survival Technology solutions provider Survitec has introduced a new, formalised pre-inspection... Read more
(Posted on 24/02/23)
The slightest deviation in the machining, polishing, and finishing of ships' propeller blades... Read more
(Posted on 20/02/23)
Bühler expanded its business and improved profitability in an uncertain and volatile business environment... Read more