Equipment
(Posted on 16/03/19)
Maritime, offshore and defence safety company Survitec has launched a unique backpack in which to carry fire-fighting foam, allowing first responders to fight fires more efficiently, without having to lug cumbersome drums to different locations.The Foam Buddy backpack is worn over a firefighting suit and designed to carry...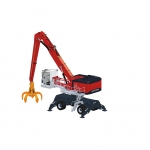 (Posted on 11/03/19)
While trends on the market tends to be "go big or go home", the Finland-based material handling machine manufacturer Mantsinen Group Ltd Oy swimming against the tide. Mantsinen has already launched the world's largest material handling machine Mantsinen 300 two years ago and paved the way for evolution on the market...
(Posted on 11/03/19)
Global leader in bulk handling equipment Martin Engineering has entered the Middle East market by forging a partnership with German Conveyor Industries LLC, UAE's experts in the design, installation and maintenance of industrial plants. The deal means that Martin Engineering's superior range of products –...
(Posted on 11/03/19)
When it comes to coal, the United States is one of the world leaders in exports and production. The United States produced 753.7 million short tons in 2018, and exported more than 116 million short tons, according to statistics from the U.S. Energy Information Administration. Only China produced more coal than the United States,...
(Posted on 11/03/19)
In the first quarter of 2019, Turkey-based Yilport Holdings, the 12th biggest global container terminal and port operator, ordered four high-performance Model 8 mobile harbour cranes for two terminals in Latin America. Two of the large Konecranes Gottwald cranes will begin operation in Puerto Quetzal, Guatemala, in mid-2019, followed...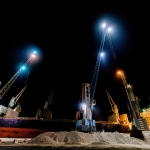 (Posted on 26/02/19)
Phoenix Lighting, a portfolio company of JMC Capital Partners, has announced the acquisition of Bright Light Systems, Inc. - a Georgia-based company with a strong product line, a well-developed lighting controls system and numerous installations worldwide.Phoenix is the leader in industrial, rugged lighting.This acquisition strengthens...