DESMI offers power management for energy compliance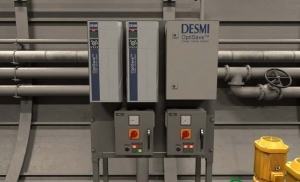 (Posted on 11/10/21)
Ship owners and designers need to comply with the maritime industry's ever stricter regulations for reducing CO2 and greenhouse gas emissions. These new rules include the long-term Energy Efficiency Existing Ship Index (EEXI) and the Energy Efficiency Design Index (EEDI).
The regulations are part of the International Maritime Organization's (IMO's) strategy for reducing greenhouse gas emissions in international shipping by at least 40% by 2030 and 70% by 2050,compared to 2008.
The new measures will require all ships to calculate their EEXI following technical means to improve their energy efficiency and to establish their annual operational carbon intensity indicator (CII) and CII rating. Carbon intensity links the greenhouse gas emissions to the amount of cargo carried over distance travelled.
Ships will get a rating of their energy efficiency (A, B, C, D, E - where A is the best). Administrations, port authorities, and other stakeholders are encouraged to provide incentives to ships to be rated as A or B. A ship rated D for three consecutive years, or E, is required to submit a corrective action plan to show how the required index (C or above) would be achieved. (For more detailed information, please visit the links above or see this article's Appendix.)
Ship owners can implement several technologies to meet the requirements. One of these includes Energy Efficient Technologies, which focus on improvement of fuel consumption in auxiliary engines. The DESMI OptiSave Energy Saving System offers a cost-effective solution for compliance. It supports ship owners and designers to meet the requirement for reduction of CO2 emissions. Such systems can be integrated at the new build stage or as retrofit applications, fully integrated within the overall control systems. The OptiSave system is also suitable for vessels that will continue to be in service beyond 2030.
"You should install it regardless of the rules and regulations," says John Nielsen, DESMI's Key Account Manager of Marine and Offshore. "At the end of the day, you want to save fuel. And in doing so you help save the planet."
Founded in 1834 DESMI is one of Denmark's oldest companies with a long history supplying good, reliable solutions, maintaining an innovative approach and utilising the opportunities on the global market.
DESMI has specialised in the development, manufacture, sale and service of pumps and pumping solutions for marine, industry, defence & fuel, and utility incl. environmental equipment for oil spill, seaweed and clean waterways operating globally, but acting locally.
The DESMI pumps and systems are sold to more than 100 countries via a network of subsidiaries and distributors on six continents.
Latest News
(Posted on 23/01/23)
KVH Managed Firewall and Cloud Email value-added services available to commercial fleets to enhance... Read more
(Posted on 23/01/23)
NAVTOR has been announced as the latest industry leader to join the Smart Maritime Network (SMN).The... Read more
(Posted on 16/01/23)
One Sea has welcomed intelligent navigation solutions provider, Orca AI, as the newest member of the... Read more
(Posted on 10/01/23)
Elcome International, a leading provider of maritime systems and integration solutions, is providing... Read more
(Posted on 10/01/23)
Corrosion Products & Equipment (CPE), a specialist engineering firm based in Rochester, New York... Read more
(Posted on 04/01/23)
Bruks Siwertell has secured a new Siwertell ship unloader contract from cement and ready-mix concrete... Read more
(Posted on 23/12/22)
Superior Industries, Inc., a US-based manufacturer and global supplier of bulk material processing and... Read more
(Posted on 23/12/22)
Bruks Siwertell has received an order from Hallet Capital Pty Ltd for a Siwertell ship unloader. It... Read more
(Posted on 20/12/22)
One Sea has welcomed South Korea's Avikus as its latest member, consolidating its position as... Read more
(Posted on 20/12/22)
Cargotec CEO Mika Vehviläinen has informed Cargotec's Board of Directors of his intention... Read more