Equipment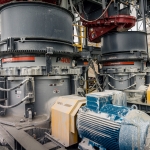 (Posted on 04/07/19)
Superior Industries Inc., a U.S. based manufacturer and global supplier of bulk material processing and handling systems, announced that a limited lifetime warranty now comes standard with new Patriot Cone Crushers. One-of-a-kind in dry bulk crushing, the no cost extended warranty covers the cone's major components including...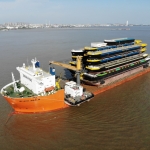 (Posted on 27/06/19)
Heavy-lift vessel Black Marlin departed Shanghai on Monday, 17th June. On deck with eighteen Concordia Damen inland shipping vessel hulls and a Damen Crane Barge 6324, bound for Rotterdam. Concordia Damen regularly conducts such heavy-lift transportations as a means of providing its customers with cost-efficient vessels.The hulls...
(Posted on 27/06/19)
MacGregor, part of Cargotec, announced on 8 February, 2018 that it has entered into an agreement to acquire the marine and offshore businesses of TTS Group ASA. The acquisition is subject to regulatory approvals from the competition authorities in Germany, South Korea and China. MacGregor announced the approval from the German regulator...
(Posted on 27/06/19)
PortX (Rotterdam, Netherlands) and Helm Operations (Victoria, BC, Canada) have announced that they have signed a new strategic partnership agreement to combine PortX's cutting-edge AI-based port dispatching system, OptiPort, with Helm CONNECT, the world's leading harbour dispatching and operations software.Already used...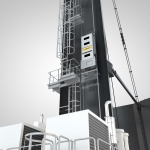 (Posted on 21/06/19)
Liebherr Maritime has presented its new LiUP crane driver elevator for mobile harbour cranes at this year's terminal operator trade fair, TOC Europe in Rotterdam this week. The in-house developed lift has an innovative drive technology and is powered by an electric motor with lithium-ion battery and energy recovery function...
(Posted on 21/06/19)
Following increased market demand for its low-friction hydrogel-containing hull coatings, Nippon Paint Marine (NPM) has now applied the revolutionary technology to its standard range of antifoulings to provide a cost-effective solution for reducing fuel consumption.Hydrogel, already used in the company's LF-Sea 150 HyB and...