Equipment
(Posted on 18/10/19)
Bruks Siwertell, part of the Bruks Siwertell Group, has delivered a mobile wood chipper to the Korean Forestry Cooperative, a forest-owner association in South Korea. It is the first Bruks delivery to Asia and ensures the high-capacity production of fuel chips, suitable for bioenergy generation."Bruks Siwertell was originally...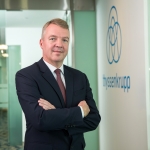 (Posted on 15/10/19)
Effective 1st November, 2019, Jan Lüder will take over as Chief Executive Officer of theMining Technologies business unit at thyssenkrupp Industrial Solutions AG. He will succeedTorsten Gerlach, who is leaving the company. Alongside his new role, Jan Lüder will remain CEOof the thyssenkrupp AG Asia Pacific Regional Headquarters...
(Posted on 15/10/19)
Ocean Safety, specialists in the worldwide supply, distribution, service and hire of marine safety equipment, have been appointed by Hansen Protection to distribute their range of emergency immersion suits, work suits and thermal protection suits in UK and Ireland.Hansen Protection, whose headquarters are in Moss, Norway, have over...
(Posted on 15/10/19)
ONE SEA, the industry alliance bringing together leading exponents of autonomous ship technology, has made a significant addition to its growing membership, after signing up Awake.AI - a company led by an experienced team of maritime digital innovators.Awake.AI is aiming to create a new platform and ML models (Machine learning)...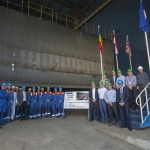 (Posted on 09/10/19)
Damen Shipyards Galati has hosted a celebration marking the keel-laying of a Damen Marine Aggregate Dredger (MAD) 3500 for Hanson UK. The event was well attended by representatives of both Damen Shipyards Group and Hanson UK.The keel of the new MAD 3500 was laid at the Romanian yard where tradition was observed with the inclusion...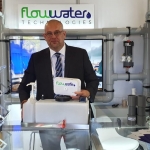 (Posted on 09/10/19)
FlowSafe DCD2000 eliminates need to carry plastic-bottled drinking water and additional chemicals for on-board, and provides all necessary water for cooking.LFlow Water Technologies has developed the FlowSafe DCD2000 Combined Drinking Water and Disinfection Unit to cater for all types and sizes of vessel.The system was developed...