Equipment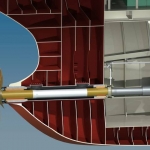 (Posted on 11/11/19)
Thordon Bearings is alerting its customers to the recent publication of a DNV GL study that concludes the recent surge in propeller shaft bearing failures is indeed related to the use of certain environmentally acceptable lubricants (EALs).In conclusion to the first phase of an ongoing investigation, DNV GL reported that "...
(Posted on 11/11/19)
An Australian client loading zinc and lead close to residential area has selected Blue Water Misting (BWM) to provide a Dry Fog system for ship Loading.The system was cost effective and and simple to set up on the ships hatch and was able to suppress all fugitive dust from the loading adding less than 0.25% moisture.BWM now has...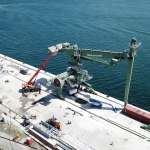 (Posted on 04/11/19)
Bruks Siwertell has delivered a high-capacity Siwertell ship unloader to Gramosa Agroalimentos SA. It was ordered in 2018 to ensure efficient, environment-friendly and careful material handling for Gramosa Agroalimentos's new agri-bulk terminal in Veracruz, Mexico."The unloader was chosen after out-performing all competitor...
(Posted on 04/11/19)
CM Labs Simulations, developer of Vortex training simulators, has announced a new operator training solution for mobile harbour cranes (MHCs), part of the Vortex solution suite of port equipment simulators.CM Labs' MHC Simulator Training Pack delivers a safe training environment that is available 24/7 and in all weather. It...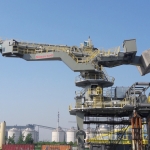 (Posted on 28/10/19)
Bruks Siwertell has delivered a high-capacity Siwertell ST 640-M screw-type ship unloader to South Texas Cement's terminal in the US port of Corpus Christi. Ordered in 2018 by US-based GCCM Holdings LCC after an extensive decision-making process, the Siwertell unloader was found to be the best fit for the cement handling operation...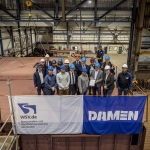 (Posted on 28/10/19)
The keel-laying ceremony has been held at Europoort Construction in Hendrik Ido Ambacht for the diving bell vessel ordered by Customer FMSW Koblenz from Damen in January this year. The operator is the Duisburg waterway and shipping authority WSA (Wasserstrassen- und Schifffahrtsamt). Following the fabrication of the hull, Damen...