Equipment
(Posted on 26/04/18)
Living up to its reputation as a specialist in demanding material handling applications, SENNEBOGEN will be adding a new variant to its product portfolio in 2018. With its energy recovery system, the new 855 E Hybrid fits seamlessly into place between the existing 850 E and the 860 E. This new, practical addition between the existing...
(Posted on 26/04/18)
In the first quarter of 2018, Konecranes won an order from the Netherlands for a Konecranes Gottwald Model 6 Mobile Harbor Crane, scheduled to be commissioned in the summer.European Bulk Services B.V. (EBS) purchased the four-rope grab crane to support its steadily growing bulk handling business in the long term. In Rotterdam, the...
(Posted on 26/04/18)
The latest four rope grab crane development of Liebherr´s floating crane segment will be installed on a converted handymax bulk carrier (45,000 DWT) with a total length of 185 m and a breadth of 30.5 m. The ship will be retrofitted with the two Liebherr bulk handling cranes at the Turkish shipyard Kuzey Star Shipyard Tuzla...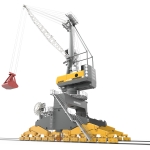 (Posted on 24/04/18)
The new LPS 420 E is the latest extension of the Liebherr mobile harbour crane product range. The newly designed machine is a purely electric driven portal crane. All crane movements like luffing, hoisting, slewing and travelling are performed by electric motors.As the LPS 420 E is a member of the LHM series, it is also characterised...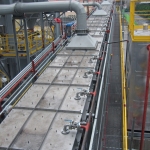 (Posted on 24/04/18)
In December 2018, Aumund Fördertechnik will dispatch an HBI evaporation cooler system to Cliffs, the operator of a Hot Briquetted Iron (HBI) Plant in Toledo, Ohio, USA. Aumund's patented technology consists of two FPB-K pan conveyors with centre distances of 72m. Cleveland-Cliffs is constructing a new HBI works at this...
(Posted on 24/04/18)
Rivertrace, an ISO9001 Quality-Assured Company and market leader with over 30 years' experience of water monitoring, has launched its innovative SMART ESM monitor. With the pending sulphur cap regulations in sight, a popular solution for shipowners to ensure compliance is to install an exhaust gas cleaning system (EGCS...