Equipment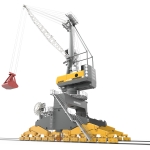 (Posted on 24/04/18)
The new LPS 420 E is the latest extension of the Liebherr mobile harbour crane product range. The newly designed machine is a purely electric driven portal crane. All crane movements like luffing, hoisting, slewing and travelling are performed by electric motors.As the LPS 420 E is a member of the LHM series, it is also characterised...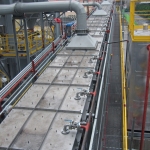 (Posted on 24/04/18)
In December 2018, Aumund Fördertechnik will dispatch an HBI evaporation cooler system to Cliffs, the operator of a Hot Briquetted Iron (HBI) Plant in Toledo, Ohio, USA. Aumund's patented technology consists of two FPB-K pan conveyors with centre distances of 72m. Cleveland-Cliffs is constructing a new HBI works at this...
(Posted on 24/04/18)
Rivertrace, an ISO9001 Quality-Assured Company and market leader with over 30 years' experience of water monitoring, has launched its innovative SMART ESM monitor. With the pending sulphur cap regulations in sight, a popular solution for shipowners to ensure compliance is to install an exhaust gas cleaning system (EGCS...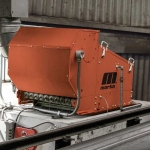 (Posted on 16/04/18)
In a move to help all silica dust-producing operations comply with impending rule changes, two pioneers in industrial dust control are reminding customers that the Occupational Safety and Health Administration (OSHA) respirable crystalline silica (RCS) dust emissions Final Rule [OSHA §1910.1000 Respirable crystalline silica...
(Posted on 16/04/18)
The Liebherr Group has announced that in 2017 it achieved the highest turnover in the Group's history, with total sales of € 9,845 million. Compared to the previous year, the family-run company increased its revenue by 9.3%. The Group is expecting further sales growth for 2018. In the construction machinery and mining...
(Posted on 16/04/18)
Generally awarded to consumer products on the cutting edge of innovative design, one of the Red Dot Awards this year has gone to an unusual candidate: the nemaX grab from Nemag. Previous product design winners have included the iPhone, the BMW 5 series and the GoPro Hero. This is the first time in history that an industrial grab...