USA acceptance of latest Wärtsilä System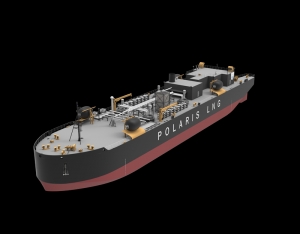 (Posted on 24/09/19)
The technology group Wärtsilä will supply its LNG Cargo Handling System for a new 5400 m3 LNG bunker barge being built in the USA. This latest order further endorses Wärtsilä's leading position in LNG systems for the marine sector, and its key role in supporting the growing acceptance of LNG fuel by North American owners and operators. The barge is being built at the Fincantieri Bay Shipbuilding yard in Wisconsin on behalf of NorthStar Midstream. It will be operated by the company's marine transportation company Polaris New Energy (PNE). The order with Wärtsilä was placed in August 2019.
"This project represents one more strategically important step in the development of a viable LNG supply infrastructure for marine applications. Wärtsilä, with its vast experience and deep know-how in LNG fuel solutions, continues to play a key role in this process. We are proud and pleased to be partnering with Fincantieri in creating a state-of-the-art solution," says Mark Keneford, Wärtsilä's GM Marine Sales for USA and Canada.
"LNG is undoubtedly becoming fast established as a sustainable fuel option to reduce shipping's environmental footprint," says Todd Thayse, Vice President and General Manager of Fincantieri Bay Shipbuilding. "That's why LNG solutions are of strategic interest to our organization. Our selection of Wärtsilä to supply the cargo handling system helps mitigate risk and assures the success of this latest project."
The bunker barge will be part of an Articulated Tug Barge (ATB) that will deliver fuel to both ocean and inland water operated LNG-fuelled vessels. It will initially be assigned to Florida's eastern coast. There is an option for two additional bunker barges.
The Wärtsilä scope includes the system design and integration, four LNG storage tanks, LNG pumps, a ship-to-ship transfer system, all necessary safety and control equipment, the valves and instrumentation, and the gas combustion unit. Deliveries to the yard are scheduled to commence in October 2020, and the barge is expected to be delivered to the customer in mid-2021.
Image caption: Wärtsilä will supply its LNG Cargo Handling System for a new 5400 m3 LNG bunker barge being built in the USA. Copyright: VARD Marine.
Wärtsilä in brief:
Wärtsilä is a global leader in smart technologies and complete lifecycle solutions for the marine and energy markets. By emphasising sustainable innovation, total efficiency and data analytics, Wärtsilä maximises the environmental and economic performance of the vessels and power plants of its customers. In 2018, Wärtsilä's net sales totalled EUR 5.2 billion with approximately 19,000 employees. The company has operations in over 200 locations in more than 80 countries around the world. Wärtsilä is listed on Nasdaq Helsinki.
Latest News
(Posted on 27/09/23)
EMS-Tech Inc., a global leader in engineering and innovation within the dry bulk material handling industry... Read more
(Posted on 26/09/23)
MacGregor, part of Cargotec, has received a significant, more than EUR 25 million order for general... Read more
(Posted on 26/09/23)
HEMEXPO, Hellenic Marine Equipment Manufacturers and Exporters, a leading suppliers and exporters association... Read more
(Posted on 19/09/23)
ClassNK has conducted third-party certification for the CO2 emissions reductions of "JGreeX&trade... Read more
(Posted on 12/09/23)
Charterers can save hundreds of thousands of dollars of unnecessary demurrage costs by drilling down... Read more
(Posted on 08/09/23)
Nippon Kaiji Kyokai (ClassNK) has joined the major classification societies to amend its rules relating... Read more
(Posted on 08/09/23)
On behalf of SLPLUS Holding and based on their trust in Feyz Group's operational capabilities,... Read more
(Posted on 08/09/23)
Leading corporate wellbeing provider OneCare Solutions (OCS) has launched the OneCare Solutions Mobile... Read more
(Posted on 04/09/23)
With CCS-Ready scrubbers now being sold at pace, Wärtsilä's studies across a range of... Read more
(Posted on 04/09/23)
German Ship Repair Jamaica Limited (GSRJ), a private joint venture of German, Turkish and Jamaican investors... Read more