Equipment
(Posted on 20/03/20)
Cooper Specialised Handling, the UK's leading independent port-equipment supplier, has announced a distribution agreement with RAM Spreaders to market and distribute the complete range of RAM spreaders throughout the UK and Ireland.Part of PEINER SMAG Lifting Technologies GmbH, RAM spreaders are a world-leading lifting accessories...
(Posted on 20/03/20)
The technology group Wärtsilä's Vessel Traffic Service (VTS) solution will be installed in the port of Callao in Peru, the country's main harbour and one of Latin America's most important ports. Dense fog and haze are a consistent challenge for Callao's port operations, often making shipping conditions...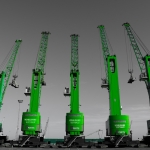 (Posted on 16/03/20)
At the end of 2019, Goeyvaerts-R bvba (Goeyvaerts) ordered two eco-efficient Konecranes Gottwald Model 7 Mobile Harbour Cranes. One will be delivered to the Port of Terneuzen, The Netherlands, in the spring and the second one will be delivered to the Port of Antwerp, Belgium, in mid-2020. Founded in 1953, Goeyvaerts started...
(Posted on 16/03/20)
Damen Shipyards Group has signed a contract with Forth Ports Limited for an ASD Tug 2312. The signing ceremony took place in Tilbury Docks. Representing Damen was Area Director Frank de Lange, while Forth Ports was represented by COO Stuart Wallace. The new vessel will operate as part of the Forth Estuary Towage operation, conducting...
(Posted on 16/03/20)
Brazil-based startup i4sea and Inmarsat, the world leader in global, mobile satellite communications, have signed an agreement for i4sea to join the fast growing group of certified application providers to provide a dedicated application for Inmarsat's Fleet Data service.Fleet Data collects data from onboard sensors, pre-processes...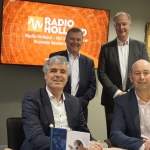 (Posted on 06/03/20)
Radio Holland and Sperry Marine recently signed a Global Gyrocompass Distribution Agreement with respect to the Sperry Marine's market leading CompassNet Heading Management System, which includes the NAVIGAT 100 and NAVIGAT 200 spinning mass gyros and the NAVIGAT 2500 and NAVIGAT 3500 Fibre-Optic Gyrocompasses.The global agreement...