Equipment
(Posted on 24/04/19)
Microbiological testing leader LuminUltra Technologies has introduced a cloud-enabled digital platform on which to manage the microbiological quality of all shipboard fuel and water systems, including ballast water.LuminUltra Cloud, available both on-line and off-line, allows end-users to control the data from all sampling, testing...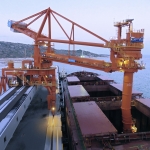 (Posted on 18/04/19)
As part of its plans to expand power supplies in the Guangzhou/Hong Kong/Shenzhen conurbation, the Chinese company New Energy Power Co. Ltd. commissioned thyssenkrupp Industrial Solutions with the construction and delivery of a continuous ship unloader (CSU) in 2015. Since the end of 2018 the ship unloader is keeping a new power...
(Posted on 18/04/19)
In order to meet the digitalisation challenges of a diverse audience of stakeholders, in a robust, secure and cost-effective way, EUROYARDS members (Chantiers de l'Atlantique, Damen Shipyards Group, Fincantieri, Lürssen, Meyer Werft, Naval Group and Navantia) joined forces to harmonise data management solutions and standards...
(Posted on 18/04/19)
Spire Maritime, a leading Satellite AIS data analytics company, and AXSMarine have announced a strategic partnership to create a new level of accuracy in maritime intelligence for chartering and commodity markets. For the past 18 years AXSMarine solutions has provided state-of-the-art technology to monitor chartering activity in...
(Posted on 18/04/19)
Maritime safety equipment supplier Survitec has registered increased interest in its SOLAS 360 service in the run up to the entry-into-force of amendments to SOLAS.The SOLAS 360 service, launched last year to ease the operational burden of ship operators by keeping vessels' regulatory compliant, is gaining traction as the...
(Posted on 18/04/19)
Alfa Laval PureBallast 3, the third generation of Alfa Laval's ballast water treatment technology, has received an updated type approval from the U.S. Coast Guard (USCG). The new certificate makes it possible for vessels to deballast in United States waters with a holding time of just 2.5 hours.Alfa Laval PureBallast 3 was...