Equipment
(Posted on 15/10/19)
Ocean Safety, specialists in the worldwide supply, distribution, service and hire of marine safety equipment, have been appointed by Hansen Protection to distribute their range of emergency immersion suits, work suits and thermal protection suits in UK and Ireland.Hansen Protection, whose headquarters are in Moss, Norway, have over...
(Posted on 15/10/19)
ONE SEA, the industry alliance bringing together leading exponents of autonomous ship technology, has made a significant addition to its growing membership, after signing up Awake.AI - a company led by an experienced team of maritime digital innovators.Awake.AI is aiming to create a new platform and ML models (Machine learning)...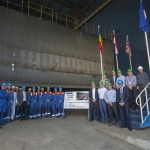 (Posted on 09/10/19)
Damen Shipyards Galati has hosted a celebration marking the keel-laying of a Damen Marine Aggregate Dredger (MAD) 3500 for Hanson UK. The event was well attended by representatives of both Damen Shipyards Group and Hanson UK.The keel of the new MAD 3500 was laid at the Romanian yard where tradition was observed with the inclusion...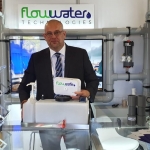 (Posted on 09/10/19)
FlowSafe DCD2000 eliminates need to carry plastic-bottled drinking water and additional chemicals for on-board, and provides all necessary water for cooking.LFlow Water Technologies has developed the FlowSafe DCD2000 Combined Drinking Water and Disinfection Unit to cater for all types and sizes of vessel.The system was developed...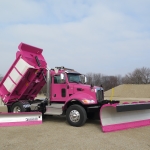 (Posted on 09/10/19)
October is National Breast Cancer Awareness Month in the U.S., and Martin Engineering is building on its previous fund-raising programs by expanding the company's efforts to support the Susan B. Komen Foundation. In 2017 and 2018, the firm raised a total of $7500 by contributing $50 for every special edition truck vibrator...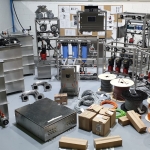 (Posted on 03/10/19)
Flow Water Technologies, developer of the Ballast Water Management System (BWMS) FlowSafe, has proven its system to be carbon neutral.Research by an independent university has verified that the Cyprus-based company's BWMS delivers a fuel saving, in energy terms, in any configuration on board a vessel.Established in 2013, Flow...