Wärtsilä partners with CCS and Tianjin Port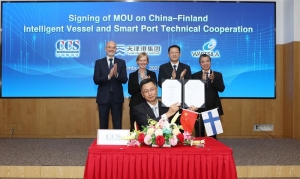 (Posted on 30/11/21)
The intelligent marine technology company, Wärtsilä Voyage, has signed an MoU with the China Classification Society (CCS) and Tianjin Port to advance China's intelligent vessel technology and deploy next-generation tugboat technology at one of the busiest ports in the world. The project's scope includes delivering advanced situational awareness technology, and providing highly advanced digital simulators, which will significantly enhance and expedite vessel concept testing, including intelligent and autonomous algorithm testing, training, and safety. The next-generation intelligent tugboat is expected to begin operation in the fourth quarter of 2023.
The larger aim of the partnership is to enhance safety, productivity, and efficiency in China's busy ports with intelligent vessels and smart sensor technology. Wärtsilä Voyage will, thus, also contribute to and support CCS in developing the first-of-its-kind intelligent vessels standards and guidelines for domestic vessels.
Wärtsilä Voyage will conduct systematic and human-centric user research to help optimise workflow and improve overall work performance and safety. Developing these intelligent ship standards will also involve establishing international collaboration and knowledge exchange on safety standards and best practices of such smart vessels.
"The signing of this MoU is incredibly significant as it elevates our relationship with CCS and Tianjin Port Group from a traditional supplier-customer relationship and towards a deeper and long-term strategic partnership. Considering the Port of Tianjin is one of the top ten busiest ports in the world, as well as its strategic importance in China's shipping scape, this is an excellent pilot case which opens many other opportunities for collaborations in the region," said Sean Fernback, President, Wärtsilä Voyage and Executive Vice President, Wärtsilä.
China and Finland jointly endorse the project under the China-Finland Science and Technology Innovation Cooperation MoU, and the China-Finland Flagship Project on Science and Technology Innovation Cooperation Strategy, 2019-2023. The MoU was virtually signed on 25 November 2021 in the presence of the dignitaries from the Ambassador of Finland to China and the Ministry of Transportation, People's Republic of China.
Asia has nine out of ten busiest ports in the world, and seven of those are in China. The Tianjin Port as a success case will thus offer an enormous opportunity to engage all other maritime ecosystem leaders.
Increasing traffic, congestion, the unpredictability of weather conditions and emissions have become major challenges for ports worldwide. During the pandemic, vessels in Asia had a waiting time of 5 to 7 days. All this has acted as catalysts for ports to adopt innovative technologies that help mitigate delays and disruptions. The Tianjin Port has stayed at the forefront of such technological innovations — be it becoming the world's first port to get approval for an autonomous driving demonstration zone with 25 unmanned electric trucks, to more recently unveiling the smart zero-carbon terminal that shows its commitment towards preserving the planet.
"This project complements our larger vision of safer and more sustainable port operations, as well as gives us the opportunity to explore further collaborations to enhance our smart port services in the future," said Yang Jiemin, Vice President, Tianjin Port Group.
Latest News
(Posted on 26/11/23)
VIKING Life-Saving Equipment, a global leader in maritime safety solutions, is launching an innovative... Read more
(Posted on 26/11/23)
Damen's client Gerdes Green has received a subsidy from the German Government for the investment... Read more
(Posted on 17/11/23)
A first of its kind training course for the Middle East has been held to teach mariners about the basic... Read more
(Posted on 13/11/23)
Wärtsilä ANCS, part of technology group Wärtsilä, has delivered to Seaspan, a marine... Read more
(Posted on 31/10/23)
The flag raising ceremony for three new ASD Tugs has taken place in Gdansk, Poland. In the presence... Read more
(Posted on 26/10/23)
A new immersive crane simulator that can recreate high-risk scenarios without putting drivers or other... Read more
(Posted on 23/10/23)
Vesto Ropes, a global leader in innovative steel wire-rope solutions, has announced a strategic partnership... Read more
(Posted on 23/10/23)
Bedeschi S.p.a. has been awarded a contract for the design and supply of a new longitudinal storage... Read more
(Posted on 18/10/23)
Rhenus Maritime Services (RMS) is adding a new coastal vessel to its fleet in the shape of the RMS Ruhrort... Read more
(Posted on 18/10/23)
Dualog, a leading maritime software provider, has introduced a major enhancement to the Dualog Drive... Read more