Acciaierie d'Italia orders four Liebherr LPS 800s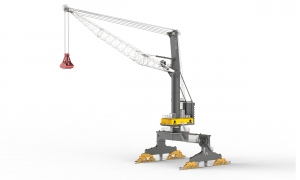 (Posted on 07/12/21)
The leading steel manufacturer in Italy, Acciaierie d'Italia has signed a contract with Liebherr for four new LPS 800 portal cranes for handling raw materials for steel production. The LPS 800 is the strongest and largest portal crane in the Liebherr portfolio. The four units operate 100% on electric power and thus enable emission-free bulk handling. They also have the Liebherr hybrid system Pactronic installed, which gives the crane additional power when needed.
In the city of Taranto, Acciaierie d'Italia operates a large and strategically placed steel mill that is the centre of its business. The site is to be further equipped with the latest crane technology for handling raw materials represented by the largest and strongest Liebherr portal crane of the type LPS 800.
"Our unique technical solutions around this project made the difference. These four gigantic portal cranes run 100% electrically and thus enable emission-free material handling. Acciaierie d'Italia also secures an unrivalled handling performance in the MHC market with the four LPS 800s. We are looking forward to this exciting partnership," says Andreas Müller, Liebherr Sales Director for mobile harbour cranes.
The LHM 800 is the largest and most powerful model in the mobile harbour crane product range. Currently, over 20 units in the mobile version are in use with various customers worldwide. The long-proven design and reliability of the LHM 800 speak for themselves. Acciaierie d'Italia has ordered a customized portal version of the 800 model. Detaching the crane substructure via a portal has various advantages. The crane can move along the quay edge on the already installed rail and at the same time, the space under the portal can be used. With its portal crane models, Liebherr offers a unique combination of proven Liebherr harbour crane technology and space-saving installation on rail-mounted gantries. "Acciaierie d'Italia is a major player in the European steel business. We are proud that they have chosen the market leader in mobile harbour crane technology - Liebherr. With Mac Port Group they have a
competent and local contact on site. We will support them in all service matters and ensure maximum availability of the equipment," comments Matteo Bilotti, Managing Director Mac Port Group.
The four LPS 800 of Acciaierie d'Italia have a 4-rope configuration with a maximum lifting capacity of up to 144 tonnes. All machines are equipped exclusively with an e-drive and can thus operate without local emissions.
Latest News
(Posted on 27/09/23)
EMS-Tech Inc., a global leader in engineering and innovation within the dry bulk material handling industry... Read more
(Posted on 26/09/23)
MacGregor, part of Cargotec, has received a significant, more than EUR 25 million order for general... Read more
(Posted on 26/09/23)
HEMEXPO, Hellenic Marine Equipment Manufacturers and Exporters, a leading suppliers and exporters association... Read more
(Posted on 19/09/23)
ClassNK has conducted third-party certification for the CO2 emissions reductions of "JGreeX&trade... Read more
(Posted on 12/09/23)
Charterers can save hundreds of thousands of dollars of unnecessary demurrage costs by drilling down... Read more
(Posted on 08/09/23)
Nippon Kaiji Kyokai (ClassNK) has joined the major classification societies to amend its rules relating... Read more
(Posted on 08/09/23)
On behalf of SLPLUS Holding and based on their trust in Feyz Group's operational capabilities,... Read more
(Posted on 08/09/23)
Leading corporate wellbeing provider OneCare Solutions (OCS) has launched the OneCare Solutions Mobile... Read more
(Posted on 04/09/23)
With CCS-Ready scrubbers now being sold at pace, Wärtsilä's studies across a range of... Read more
(Posted on 04/09/23)
German Ship Repair Jamaica Limited (GSRJ), a private joint venture of German, Turkish and Jamaican investors... Read more