Equipment
(Posted on 08/04/19)
Research and production corporation United Wagon Company (UWC) has expanded its product portfolio and introduced dumpcars to the market, intended for the transportation and automated discharge of bulk and lump construction aggregates and ore mining products.Dumpcar prototypes are currently subjected to a variety of preliminary and...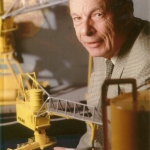 (Posted on 02/04/19)
It is with great sadness and emotion that Belgian company, VIGAN Engineering S.A., has announced the death of Lucien Beauduin, former CEO and Honorary Chairman of VIGAN Engineering, in March 2019, at the age of 87.Headquartered in Nivelles, an industrial area about 30 kms south of Brussels, VIGAN now manufactures a complete range...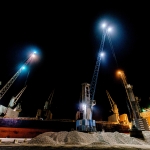 (Posted on 02/04/19)
Phoenix Lighting is proud to announce the launch of its newest port innovation – a fully integrated system for terminal yard lighting. This solution has been expertly designed to give ports and terminals reliable, energy-efficient illumination along with the ability to control and monitor every element of it. LED lighting...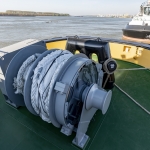 (Posted on 02/04/19)
It's no secret that Damen Marine Components (DMC) designs and manufactures high-quality marine winches for a wide range of applications. However up until now mariners will have only encountered them on board Damen-built or maintained vessels, as they were previously sold exclusively within the Damen group. That is now to change...
(Posted on 02/04/19)
KVH Industries, Inc., has introduced the TracPhone V11-HTS, the world's fastest 1 meter Ku/C-band maritime VSAT antenna, designed to deliver data speeds as fast as 20 Mbps down/3 Mbps up to commercial maritime vessels and superyachts around the world. The fast data speeds support the critical needs of commercial ships today...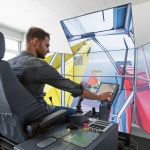 (Posted on 27/03/19)
A new Liebherr simulator is on its way to New Zealand. Port Nelson ordered a classroom solution in order to simulate ship crane and mobile harbour operation. The simulator has even the possibly to add further Liebherr crane modules in the future.Port Nelson at the top of New Zealand's South Island will soon have its own training...